MIT's Craig Steven Wilder Delivers 2018 Thomas F. Ryan Lecture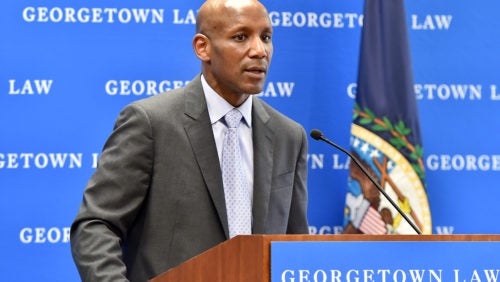 In 1776, as British forces were landing in New York during the Revolutionary War, Harvard University moved classes to Concord, Massachusetts, and Yale moved to Hartford County.
In sheltering themselves from the war, administrators felt that the easiest places for colleges to reassemble classes would be in the towns and counties in their respective states that had the greatest concentrations of slaves.
As Craig Steven Wilder, the Barton L. Weller Professor of History at the Massachusetts Institute of Technology explained, slavery had been inextricably linked with American colleges since the founding of Harvard in 1636 and Yale in 1718, with slaveowners serving as founding trustees or lending their names to buildings.
During the Revolutionary War, several colleges completely ceased operations, and others survived by moving faculty and students. "Enslaved people actually helped to usher [the town of] Concord and Harvard through the conflict," Wilder said. "Slavery was ordinary in Concord, where the townspeople had maintained a lively commerce in human beings during the war."
Wilder, the author of the award-winning book Ebony & Ivy: Race, Slavery and the Troubled History of America's Universities (Bloomsbury, 2013), spoke at Georgetown Law's 2018 Thomas F. Ryan Lecture on April 5 in a lecture entitled "Southward and the West Indies: Colleges and Slavery in the Age of Revolution." The annual lecture is named for Ryan (C'71, L'76) a late alumnus of both Georgetown College and Georgetown Law.
At the time of the American Revolution, Henry Cruger Jr., an American-born slave trader who would become the mayor of Bristol, England, a member of the British Parliament and eventually a state senator from New York, built his coercive empire across the Atlantic world.
"The Cruger commercial network…extended from New York City to Britain to Jamaica to St. Croix…," Wilder said. "Cruger's ships brought enslaved Africans to the Caribbean and North American mainland; they supplied the West Indian and Southern plantations, and they carried the products of enslaved labor to Europe, transporting European goods to the colonies," he said.
As it happened, Cruger's father and uncle were trustees of King's College, now Columbia University.
"Slaving families like the Crugers in New York transformed British North America," Wilder said. "In that less than quarter century from 1745-1769, the number of colleges…more than tripled to ten."
Terrible history
The post-Revolutionary War period would see not a decline but a remarkable period of expansion in higher education in America. In 1789, for example, Archbishop John Carroll presided over the founding of Georgetown College.
Deprived of some of their English benefactors, colleges had to fend for themselves. Colleges became self reliant, but at a terrible cost — slaves might be sold in order to complete the roof of a school building, and wealthy slave owners might ensure the stability of a school.
Covering the Revolutionary period in American history, Wilder's talk concluded with the 1818 establishment of another Jesuit institution, St. Louis University. But Dean William M. Treanor noted that the lecture provided an opportunity to reflect on Georgetown's own "terrible history" of slavery — referring particularly to the 1838 sale of 272 enslaved women, men and children from which Georgetown and other Jesuit initiatives benefited.
Associate Dean John Mikhail, who introduced Wilder, said that few topics are more important and challenging than the historical relationship between American universities and the institution of slavery. The intertwined history of slavery, racism, and American higher education, Mikhail noted, hits "uncomfortably close to home."
"At Georgetown in particular, it deserves our unwavering attention," Mikhail said.