Musician, Activist Simon Tam Speaks at Georgetown Law about his Landmark Supreme Court Case, Matal V. Tam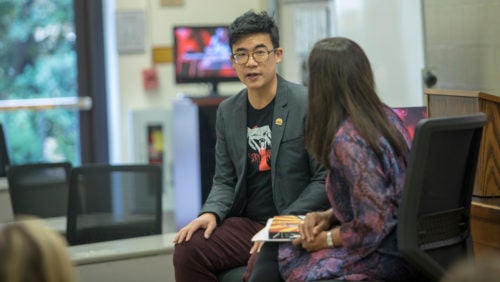 The Institute for Technology Law & Policy hosted musician and activist Simon Tam, whose efforts to trademark his band name "The Slants" prompted a legal battle that went all the way to the Supreme Court.
Simon appeared in conversation with Tech Institute Faculty Advisor Madhavi Sunder, a trademark expert who teaches, "Cultural Appropriation: Innovation or Theft?" Tam is the author of a new book, Slanted: How an Asian American Troublemaker Took on the Supreme Court.
Reflecting on his unexpected legal journey, Tam described his efforts to trademark the band's name. After the mark was rejected by the U.S. Patent & Trademark Office as a "derogatory term", Tam and his counsel countered that the restriction violated his First Amendment rights.
In doing so, Tam noted that non-Asian Americans had been able to register trademarks including the word "slant" in many instances. It was the term's use in the context of identity-based reclamation that gave rise to the rejection. Tam underscored the disparate impact of this practice on those who seek to trademark historically prejudiced terms for reappropriation purposes. Others had experienced the same impact, such as the motorcycling affinity group for lesbians "Dykes on Bikes", whose trademark application had also been rejected.
Tam described the effort he and other allies mobilized around his case, seeking to show that the band's name, in the context being used, was not derogatory or offensive. Citing a passage from Tam's book, Professor Sunder recounted how Tam's legal team delivered a large box of supporting affidavits and statements to the U.S. trademark examiner in paper format. After quipping that budget constraints had prevented him from scanning the documents at a copy center, Tam grew more serious: "I wanted them to see the literal weight of support we had — the weight of the views in my community."
Of course, the views in Tam's community were not all the same, a point Professor Sunder highlighted. She praised Tam for his conscious effort to encourage people that disagreed with him to file amicus briefs before the court. "Asian Americans are not a monolithic group," Tam noted. "How can I advocate for free speech if I don't encourage views from the other side?"
During the conversation, Tam provided important commentary about how plaintiffs whose stories are at the heart of a legal court battle can nevertheless become marginalized after legal teams step in. Even as an educated and confident self-advocate, Tam saw himself sidelined as his case progressed, with the issues increasingly reduced to a legal abstraction instead of the deeply personal case it was. The conversation was an important reminder for law students about the human issues at stake in legal processes.
Tam described the devastation he felt when he realized, several years into litigation, that a victory in his case would directly undermine years-long efforts to deny trademark status to the offensive name of the Washington D.C. football team. After lengthy consultation with mentors, and engaging directly with the Native American advocates who had lead those efforts, Tam decided to proceed with his case.
Tam, and others who support him, maintain that the government trademark office is not the correct place to decide which identity-related terms can and cannot be used. Tam believes the pressure should fall on entities like the major sports teams to recognize their offensive actions, and electively change their names.
Tam continues to advocate strongly against the name of the D.C. football team and others like it. During his book release event on the west coast, he shared the stage with Jacqueline Keeler, an author and activist of Dineh and Yankton Dakota Heritage, who co-founded Eradicating Offensive Native Mascotry and leads the movement #NotYourMascot.
Watch a video of Tam's conversation with Professor Sunder.