Natalie Khawam (L'05): Bringing Skills Learned in Georgetown Law's Federal Legislation Clinic to Life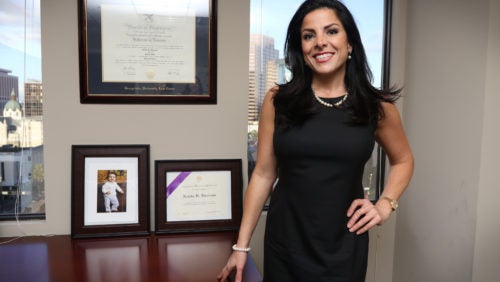 Green Beret Sfc. Richard Stayskal fought in Iraq and earned a Purple Heart and a Bronze Star when serving our country as a Marine Sniper.
However, an alleged series of errors by doctors at Womack Army Medical Center in North Carolina may cost him his life.
At an annual physical in 2017, Stayskal claims, doctors overlooked a mass that was present on a CT scan of his lung, and cleared Stayskal for dive school. Six months later, doctors took another look, but misdiagnosed him with pneumonia. By the time they diagnosed it as cancer, it had spread throughout his body.
Unlike a civilian, Sfc. Stayskal, 37, can't sue the doctors thanks to a 1950 Supreme Court decision that generated the Feres Doctrine, which prohibits active duty military personnel and their families from suing the government for medical malpractice.
That may be about to change. Florida lawyer Natalie Khawam (L'05) is representing Stayskal in his suit against the U.S. government, and she has drafted a bill to make an exception to the doctrine that she believes has been misapplied and inappropriately expanded, allowing military personnel to sue when they are not in combat.
"[The Feres Doctrine] says you can't sue the government during times of war, or for injuries sustained in combat. I agree with the intent of the law when there is an emergency situation on the battlefield," Khawam said — but not when it comes to her client's situation, which resulted from routine visits to civilian doctors, far from the battlefield.
"ISIS couldn't kill him — they shot him in the chest — but our own health care system has," Khawam added.
In recent weeks, the four-page bill, titled "Sfc. Richard Stayskal Military Medical Accountability Act of 2019," has gathered momentum on both sides of the aisle, and will be introduced by Rep. Jackie Speier on Tuesday, April 30. In fact, when Rep. Richard Hudson's office called Khawam in March to tell her they were working on a bill, she informed them she'd already drawn one up. Perhaps under ordinary circumstances, Khawam said, she might stand by and let a lawmaker's office help draft the bill — but in this case, she had no time to lose.
"If my client wasn't terminal, I'd let others do their work," she said. Stayskal is slated to testify on Tuesday in front of the House Armed Services Committee, just before the bill is introduced.
Real life, real law
Where did she learn how to draft a bill? Khawam said she drew heavily on what she learned in Georgetown Law's Federal Legislation Clinic, then taught by Professor Chai Feldblum (later, the head of the Equal Employment Opportunity Commission (EEOC) and now a partner at Morgan Lewis). Although at the time the concepts and processes Khawam was learning — which committees have jurisdiction over which issues, when state or federal action will be more effective — felt remote to a third-year law student, they paved her journey to the Hill working to overturn the Feres Doctrine decision.
"Never did I think that clinic would apply to my life," Khawam said. "It empowered me to not only to draft the bill, but…whenever I spoke to a Senator or Representative, I could convey to them how supporting the bill would also help their constituents."
Thanks to her education from the Federal Legislation Clinic, she could accumulate and access all the information that is essential to getting her legislation through.
"They knew I understood the obstacles they had to face," she said, referring to the bipartisan group of lawmakers who plan to support the bill.
The bill is part of a larger effort to raise awareness about the Feres Doctrine, including a Change.org petition and a march in Washington planned for June 12.
Khawam was featured in a recent article in People about her cause.
"I didn't go to Georgetown Law to chase ambulances," Khawam said. "I went there to make the world a better place, and thanks to my education at Georgetown Law that's what I am trying to do."