Georgetown Law Launches New Congressional Fellowship for Recent Graduates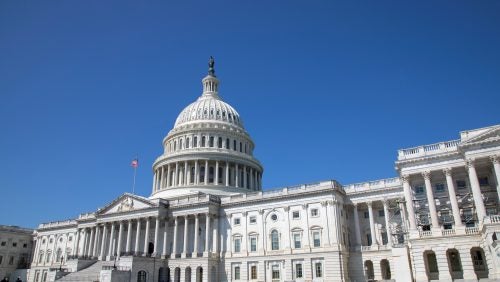 As part of its continuing efforts to support graduates seeking careers in public service, Georgetown Law this spring launched a new Capitol Hill Fellowship Program for recent graduates who find positions in Congressional offices.
Dean William Treanor announced the fellowship March 22 at the Law Center's Capitol Hill Reception, which welcomed some of the more than 120 alumni who currently work on the Hill or in other government and public service roles.
The fellowship will award a stipend of $20,000 to up to five 2023 graduates who are hired for four-month volunteer positions on the Hill this fall.
"Since Congressional office budgets are limited, many offices rely on volunteers and interns, especially at the entry level," said Morgan Lynn-Alesker, L'07, Assistant Dean, Office of Public Interest and Community Service. "The Georgetown fellowships are intended to enable graduates to take those positions so that they can gain experience in legislative advocacy, build networks and find permanent employment opportunities in government affairs and public service."
"I never fail to be inspired by the sight of the Capitol just steps from our school. Every day when I walk out my office door, I am reminded of the great responsibility we have to have an impact on public policy in our nation and the world," said Dean Treanor. "This new fellowship is just another way we are helping our graduates get their foot in the door."
The lawmakers who attended the event all said that Georgetown instilled in them the belief in the importance of public service.
"There's no doubt my time at Georgetown Law shaped the way I see the world," said Rep. David Cicilline, L'86, who will soon be leaving Congress after 17 years of service and returning to Rhode Island, where he previously served as mayor of Providence and in the Rhode Island House of Representatives. "Our office on the Hill has also been the beneficiary of many Georgetown grads who have served as staffers and made extraordinary contributions to our country."
Other elected officials who spoke at the event include Maryland Rep. Steny Hoyer, L'66, and California Rep. Ted Lieu, L'94.
Many current Hill staffers at the event said previous fellowship programs not only paved the way for their public interest careers, but also led to life-long networks of supportive Georgetown alumni.
"My fellowship gave me the perfect opportunity to learn about the intersection of justice issues and technology, and was helpful in teaching me what opportunities there were in those areas," said Katie McInnis, L'15, of her Privacy and Technology Fellowship, which eventually led to her current position as Chief Counsel for the Subcommittee on the Administration of State, Regulatory Reform and Anti-Trust. "It created a cohort, a group of women who also have similar careers."