New Study Shows Schools Can Help Vulnerable Girls Succeed with Restorative Practices
WASHINGTON — A new Georgetown Law study shows that giving girls access to supportive community circles and other restorative practices can benefit their health, wellbeing and chances for school success.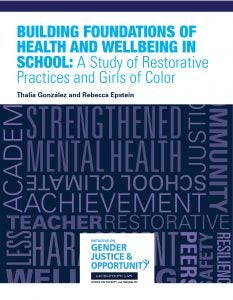 For its latest study, the Initiative on Gender Justice and Opportunity at Georgetown Law's Center on Poverty & Inequality — best known for its research on the adultification bias that Black girls face — conducted focus groups with girls of color participating in restorative practices in schools around the country.
Rooted in indigenous culture and traditions, restorative practices have become a fast-growing part of innovative educational approaches to addressing harm, building relationships, and strengthening school communities. The new study examines the benefits of proactive restorative practices in schools outside of disciplinary settings.
"Building Foundations for Health and Wellbeing: A Study of Restorative Practices and Girls of Color" draws on interviews with 67 Black and Latina girls in nine middle and high schools and a review of existing research.
The study finds that proactive restorative practices improve:
Girls' connections to teachers, peers, and family
Girls' sense of safety and positive school climate
Girls' social-emotional skills (SEL)
Girls' mental health, resilience, and empowerment
"These findings show that many more schools can take positive steps to support the health and wellbeing of girls of color ," said the report's lead author, Thalia González, senior scholar at the Initiative on Gender Justice and Opportunity. "This is especially important now, after a year of unprecedented challenges for so many children and educators, which have disproportionately harmed communities of color."
The study illuminates the benefits restorative practices can provide to girls in particular, including a sense of empowerment and overcoming a sense of isolation to discuss experiences of violence in a supportive setting.
One girl interviewed for the study explained the gap restorative practices fill this way: "When people feel like they're alone, that's what leads them to, like, depression and other mental issues that can even kill them, because people just don't feel like they have anyone there for them and they don't feel like they could open up to anybody."
Another girl said: "I didn't have a voice in the class and the teacher mostly called on the boys. And when it came to circle it was like no, we all have the same voice, there's no … dominant sex here, basically. And I feel like that empowered a lot of girls here."
The report authors say that restorative practices are beneficial for all children, but that they chose to focus on girls of color because marginalized girls are so rarely the focus of health and education studies — even as they face disproportionate challenges.
"We know that girls of color face higher rates of trauma, exclusionary discipline and detachment from school than their peers," said coauthor Rebecca Epstein, executive director of the Georgetown Law Center on Poverty and Inequality.
"Restorative practices are a pathway to strengthen marginalized girls' connections with teachers and peers, and receive the compassionate support they need to thrive."
The report recommends that schools:
Utilize restorative practices to reconnect students to school in the wake of COVID closings
Utilize restorative practices to mitigate health and education inequities
Implement restorative practices across all grade levels
Restrict use of zero-tolerance and other punitive discipline practices and policies
The report also calls for further research to evaluate restorative practices as a public health intervention.