On the 'Frontline': International Alumni Battle Crimes Against Humanity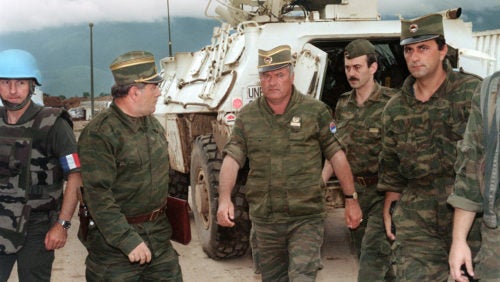 For two Georgetown Law alumni, 'The Trial of Ratko Mladic' is more than a movie.
It is the stuff of nightmares. A man is tricked into leading his teen-aged son out of hiding and into a fatal ambush. A woman retrieves her father's bullet-riddled remains from the mass grave where he and hundreds of others were killed some 20 years earlier. More than 100,000 dead and 2 million displaced.
"The Trial of Ratko Mladić," a PBS "Frontline" episode featured at a documentary film festival in Toronto on April 29, is a hard way to spend two hours.
For two Georgetown Law alumni, though, the trial of Ratko Mladić was measured not in hours but in years. War crimes prosecutors and international law experts Arthur Traldi (L'06) and Glenna MacGregor (L'05) helped secure the 2017 conviction of the so-called Butcher of Bosnia for genocide, mass murder, and acts of "ethnic cleansing" committed against that country's non-Serb ethnic minorities, including Muslims and Croats, from 1992 to 1995.
The impact of confronting crimes against humanity on a daily basis "is difficult to grasp before you get involved," Traldi says. "Once you are involved, you see not just the pain but the courage of the witnesses and the survivors, and you take your inspiration from them. It's an incredible honor and responsibility to have the survivors of such terrible atrocities put their trust in you."
MacGregor says the evidence "did get to me, but not in the way you might expect. To me, it was a compelling reason to go to work. The tribunal's stated goal was simply to find the truth, but I saw it as something more – a way to move us, as a society, toward accountability."
Delayed, not denied
The Mladić trial was the closing act of the U.N. International Criminal Tribunal for the Former Yugoslavia. Indicted in 1995, the former chief of the Army of Republika Srpska (VRS) had evaded arrest until 2011. Trial began in May 2012.
The case was divided into four components: one each for the devastated regions of Srebrenica and Sarajevo; one "overarching" component for 14 other municipalities; and one devoted to allegations that the VRS had taken UN personnel as hostages for use as human shields.
Traldi, a prosecutor who had been with the ICTY since 2010, headed up the municipalities component. MacGregor, who joined the prosecution in 2012, worked with all four components and coordinated the final trial brief, pulling the evidence together into one cohesive story.
The "Frontline" documentary chronicles the nearly five-year process. Traldi is shown in his black prosecutorial gown and white collar, chipping away at a defense witness's attempt to cast the killings as individual acts of vengeance for past injustices to Serbs, not a coordinated campaign by Mladić.
"The film is very dramatic, very cinematic. It's a good movie. But when I watch it, my mind automatically turns to all the people whose stories didn't get told," Traldi says. "We had about 600 witnesses, and maybe 10 made it into the movie."
For MacGregor, watching the documentary was "totally surreal."
"There's no way for me to discuss it or evaluate it as a film," she says. "The people, the building, the gowns — for me, that was all part of a daily routine. To see it on 'Frontline' was nearly an out-of-body experience."
The documentary shows her interviewing Saliha Osmanovic — the widow of Ramo Osmanovic and mother of Nermin, the teen-ager whose father was tricked into calling him out of the woods and into an execution as they fled the siege of Srebrenica on July 11, 1995. Their other son had been killed in the shelling six days earlier.
During the evacuation, Mrs. Osmanovic was herded onto a bus with no possessions but the clothes she was wearing. She knew nothing of Ramo and Nermin's fate for many years, until a tape of their execution surfaced.
"We didn't need a big team to question her; she knew exactly what she wanted to say. She had no impatience or resistance," MacGregor says.
When Mrs. Osmanovic came to The Hague to testify, she tried to give MacGregor a gift of a 10-Euro note, for MacGregor's young daughter.
"I told her no, no, you mustn't, for so many reasons," MacGregor says. "She told me it was a tradition in Bosnia: you have to give girls a little something extra, because their life is going to be hard."
New challenges
With Mladić's conviction secured — and his appeal underway — both Traldi and MacGregor have moved on to new challenges.
MacGregor is an associate prosecutor at another International Criminal Tribunal at The Hague. She cannot discuss details, but says the tribunal is "at a much earlier stage" than the ICTY was when she arrived there.
"I try to keep that in mind — that our decisions, today, could affect how this tribunal will operate 10 years from now," she says.
Traldi has returned to the United States. He is involved in international and human rights law on several fronts, including working with the Organization for Security and Co-operation in Europe on improving the handling of war crimes in Bosnia's domestic courts. He has also been seconded by the U.S. State Department to several of OSCE's election-observation missions, most recently in the Ukraine.
Last term, he returned to Georgetown Law to talk to Professor David Luban's class, Criminal Law Across Borders — a memorable occasion for him because that was the first international law course he had taken as a law student.
"Nothing in law school can prepare you for the experience of standing in a mass grave," Traldi says. "But my time at Georgetown — especially the international law, and trial advocacy and appellate advocacy courses, gave me the foundation and ability to think strategically; to realize that as a prosecutor, it's all about getting enough evidence into the record to get a judgment. That's the bottom line."