O'Neill Institute Recognized as a World Health Organization Collaborating Center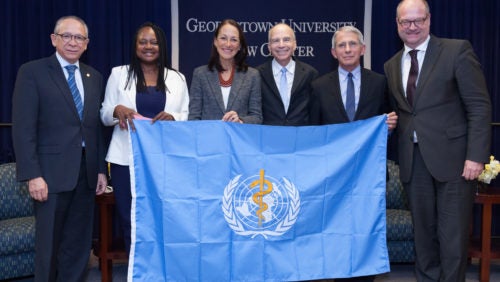 "This a very, very special day for the O'Neill Institute," Professor Larry Gostin told a crowd gathered at Georgetown Law earlier this semester.
It was the 10th anniversary of the O'Neill Institute for National and Global Health Law — and the milestone was recognized by two groundbreaking events: the launch of a report by the UN Special Rapporteur on the Right to the Health, and the designation of the O'Neill Institute by World Health Organization (WHO) representatives as a WHO Collaborating Center.
Dainius Puras, the UN Special Rapporteur on the Right to Health and a Distinguished Visitor at the O'Neill Institute, submitted his report on the right to the enjoyment of the highest attainable standard of mental and physical health to the UN General Assembly's Human Rights Council in June. On October 26, he presented the report for the first time to a Georgetown Law panel that included Gostin — the faculty director of the O'Neill Institute — and other experts in mental health.
"Mental health is coming out of the shadows and is now recognized as a new global priority," said Puras, who nevertheless cited three major obstacles to the right to mental health: excessive use of biomedical interventions, imbalances of power and the biased use of evidence. Insufficient resources and community-based services, resources directed towards institutionalization and stigmatization remain problems worldwide.
"The key principle of the [UN Convention on the Rights of Persons of Disabilities,] to move from a medical to social model and to empower persons with disabilities,…is largely ignored by policy makers and service providers," Puras said. "Epidemics of human rights abuses both within and outside mental health systems [continue], and lessons of from the past seem to be forgotten."
The discussion that followed featured a powerhouse lineup that included Ira Burnim, legal director of the Bazelon Center for Mental Health Law; Sofia Galvan of the Inter-American Commission on Human Rights; and Eric Rosenthal (L'92, H'16), the executive director of Disability Rights International. Rosenthal, who has worked towards deinstitutionalization worldwide, called the report "transformational."
"In my work, I've gone abroad, I've looked at what's actually going on in psychiatric hospitals, orphanages and other institutions for persons with disabilities…when you see people held in such atrocious conditions, people held naked, people tied to beds, people fundamentally dehumanized…[comprehending that] such abuse and neglect is going on…is something that is hard to grasp," Rosenthal said. "These people are truly the forgotten people of the world."
Trusted partner
Later, Rüdiger Krech, director of Health Systems Innovation at the World Health Organization, was among those designating the O'Neill Institute as a WHO Collaborating Center with a special focus on providing strategic support to the WHO Pan American Health Organization's (PAHO) regional priorities.
"The O'Neill Institute…has made a substantial contribution to global health through its highly strategic priority setting, through its outreach and through personal dedication as shown by [Gostin and his] team," Krech said, as he presented Georgetown's own WHO flag. "The O'Neill Institute has become a trusted partner in health law around the globe."
The brief ceremony was followed by a panel on 21st-century health challenges with Dr. Anthony Fauci, director, National Institute of Allergy and Infectious Diseases, National Institutes of Health; Dr. Margaret Ann Hamburg, 21st commissioner, U.S. Food and Drug Administration; and Ambassador Bonnie Jenkins, former State Department coordinator for Threat Reduction Programs in the Bureau of International Security and Nonproliferation.