Parkland, Georgetown Law Student Speak at O'Neill Institute Panel on Gun Violence, Health & 2nd Amendment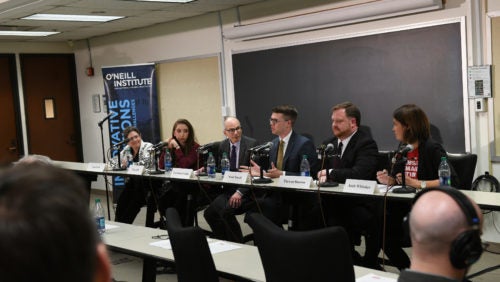 "February 14 was supposed to be a day of love and happiness…" Dara Jaffe, a freshman at Marjory Stoneman Douglas High School in Parkland, Florida, said at Georgetown Law on March 26 — speaking just days after the March for Our Lives demonstrations in Washington, D.C., and around the world.
On Valentine's Day, as the 15-year-old told the audience, a former student entered the school and killed 17 students, faculty and staff with an AR-15. "On February 14th, I ran for my life…our friends, families, and teachers were lost to us forever."
Georgetown Law student Scott Novak (L'20), a gun violence prevention advocate, lost two friends in the Pulse Nightclub shooting in 2016. Because of the power of the weapon, one friend was shot eight times. "I don't believe civilians should have such easy access to those kinds of weapons," he said.
Jaffe and Novak spoke at "Gun Violence: Public Health & the Second Amendment," co-sponsored by the O'Neill Institute for National and Global Health Law. The event was filmed by CSPAN.
University Professor Lawrence Gostin, faculty director of the O'Neill Institute, moderated the discussion with the students; Cato Institute Fellow Trevor Burrus; Liza Gold, clinical professor of psychiatry at Georgetown University's School of Medicine; and Katie Whitaker of Moms Demand Action (also an alum of Marjory Stoneman Douglas High School).
"I was [at March for Our Lives] and it was truly inspirational…because it was led and articulated by the young people of America," said Gostin, the O'Neill Professor of Global Health Law at Georgetown University, as he introduced the discussion. "What wonderful brave, courageous leaders they are…they ought to be in the lead. They are, and they will be tonight."
Every year in America, Gostin said, 38,000 people are killed by firearms, more than 100 human beings a day. Since the Columbine school shooting in 1999, 187,000 school children have been exposed to gun violence.
"We see it in schools, we see it in inner cities, we see it in accidental deaths of young children in the home, we see it in suicides, if there's easy access to firearms…" Gostin said. "Following the March for our Lives…we are going to have a civil, civic conversation about firearms and public health. I want this conversation to model what this conversation should be, but hasn't been, in the United States…I want to find common solutions to a problem that everyone, whether on the left side of the political spectrum or the right, has to be worried about — because it's our kids."
Public health strategy
Last week, Gostin and Stanford's Sarah Duranske published "The Second Amendment and a Well-Regulated Firearms Environment" in the Journal of the American Medical Association and a second article in Health Affairs— documenting the #NeverAgain Movement by Parkland students and proposing regulations for firearms that are consistent with the Second Amendment.
Gostin outlined a lawful public health strategy for regulating firearms that includes prohibiting violence-prone individuals from accessing them, universal background checks, safe storage and banning hazardous weapons. "[If] we know what works, [if] there are evidence-based laws and they are constitutional, why wouldn't we, as a society, want to prevent avoidable injuries and deaths to our young people?" Gostin asked the panel.
The Cato Institute's Burrus described the Second Amendment and what room it leaves for public health strategies. The Second Amendment does not include tanks, grenades, rocket launchers, and machine guns, but things in common use for self-defense. "It's likely that a lot of gun regulations and person regulations pursuant to guns are constitutional — but we always have to remember that the right to self-defense is what the Second Amendment protects," Burrus said.
Georgetown University's Gold explored the role of mental illness, predictors and interventions. "We don't have more mental illness in this country than in other countries; we don't have more angry, violent people in this country than in other countries," she said. "What we do have are more guns, and more access to guns, and more access to guns that kill more people more quickly."
Never Again
Jaffe described students' lives in the aftermath of the shooting — returning to school, the empty spaces on the lunch benches, the flowers on desks. "Everyone says, 'Never Again,' and it's already happened again…" she said, referring to the Maryland school shooting in March.
"The only thing that has been done is adding more of a police presence to the school, which makes us more nervous because they are bringing more guns on to campus. I have been going through active shooter training drills since I was in kindergarten…right now, there are at least 50 armed policemen on my school campus. This doesn't make me feel safe."
Jaffe called for funding for better security measures, and a reexamination of mental health policies, among other things. "Arming teachers is nothing that any student wants…" she said. "Adding more guns to the schools is not going to fix the issue…I want my generation to be the last group of students who have to march on Washington to protest for safe schools. I want legislators to vote for children, and not for guns or lobbyists. We want to be the drivers for change…we want to end gun violence. And if they don't change, we will be the change that is needed."
Speaking out
Georgetown University's Gold noted that our society has developed a sense of learned helplessness with respect to gun violence. "The Stoneman Douglas students have said…What do you mean, there's nothing we can do? They are in the process of breaking the cycle…they are yelling, 'Wake up, America."
Novak, the Georgetown Law student, said that many of his friends are now advocates.
"You either become silent and live in fear, or you fight to try to make political leaders care about your lives…" he said. "They ignored Sandy Hook, when first graders were shot. They ignored us at Pulse, they've ignored so many other communities, why would this be any different? I think it is different…[the] high schoolers can organize, and they have organized…and they are speaking out, and they show no signs of stopping."
Gostin said that with good science-based policy, we can make a difference. And Jaffe, the Parkland student, said that if one student's life can be saved, it is worth it. "It's sad, because I had to lose friends, so that we could March on Washington…so no one has to go through this."
The event was co-sponsored by Georgetown Law's Office of the Dean and three student organizations: Active Minds Georgetown University, Georgetown Law Students for Democratic Reform (GLSDR) and Human Rights Action — Amnesty International (HRA-AI).