Pathways: Benigno López (LL.M.'88), Minister of Finance for Paraguay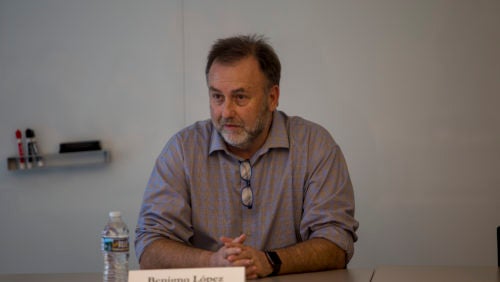 After Benigno López (LL.M.'88) earned his LL.M. at Georgetown Law and returned home to build his career at Paraguay's Central Bank, it seemed to him he was the only one in Paraguay with a masters of law.
For ten years, he didn't even see that anything that he had studied for his general LL.M. — even under the tutelage of scholars like Professor Emeritus Don Wallace, who taught the American legal system — was especially relevant back home.
But that all changed following a huge 1999 case involving criminal activity in Paraguay, when López found himself in New York recording stolen assets. The money was recovered and the perpetrators jailed. "After that, I never stopped being involved with the U.S. legal system…the master's that I got here [at Georgetown] made a big difference," he said.
López spoke to LL.M. students from around the world — China, Mexico, El Salvador, Brazil, Colombia — before attending meetings of the IMF and World Bank in Washington on April 8. He discussed the leverage that an LL.M. degree from Georgetown gave to his career and offered advice to students.
López was lucky enough to learn about Georgetown's LL.M. program as an undergraduate studying law in Paraguay, because he took English courses at Georgetown University for a year in the 1980s. He was so inspired that after graduating from the Catholic University in Paraguay in 1986, he returned to Washington to earn a Georgetown LL.M. "That really made a huge impact in my professional career," he said.
López had initially worked at Paraguay's Central Bank between high school and university, doing administrative tasks. But as the only lawyer with an LL.M., and an LL.M. from Georgetown, "I was the king." People listened to him in meetings, he said.
López would rise to become general counsel of the Central Bank and had a key role in addressing the financial crises of 1995 and 2002. He became Minister of Finance of the country last year; he's also worked in the private sector.
Today, the government of Paraguay — a country with less debt than its peers — sends students to a number of top law schools including Georgetown. Indeed, an LL.M. is necessary for lawyers to advance. "We believe that human capital is the key for success…" López said. "I think that the key for [your] future is to focus, and to have courage…the LL.M. will give you the strength and the confidence for success."
Life-changing
Georgetown Law students hail from more than 70 countries, so the LL.M. students who came to the event had a wide range of backgrounds and interests. Ernesto Fuentes Garcia (LL.M.'19), an attorney from Paraguay who works at the Central Bank, thanked López, calling his own LL.M. experience "life-changing."
"When I come back, I will be a much better professional than I used to be, so I will try to take advantage of this opportunity that I have," Garcia said.
Garcia also shared his thoughts after the event. "As a Paraguayan…it was a pleasure to listen to a senior government official of my country in one of the most prestigious universities in the United States," he said. "From my perspective, Georgetown not only opened the doors to an alumnus but also opened the doors to my country (a small landlocked nation in the heart of South America, between southern Brazil and northern Argentina), and it is something I will remember all my life."
Being able to speak to a former LL.M. student who developed a successful career after graduating from Georgetown Law "is something that motivates," Garcia said.
"It was amazing to enjoy the personal anecdotes that Mr. Lopez shared, many of which I felt close to, living in the same environment, and [to learn] how he overcame adversities that came along the way during his life," he said. "It is an example that I hope to follow…being able to give back to my country for the opportunity that I have to come to study at Georgetown. As Mr. Lopez said, we should "be focused" in our pursuit of our goals. Those of us who have the privilege of being able to study abroad, in countries like the United States…must bear the responsibility of sharing knowledge in the search for a more just society for all."