Pete Bevacqua (L'97), President of NBC Sports Group, Talks Shop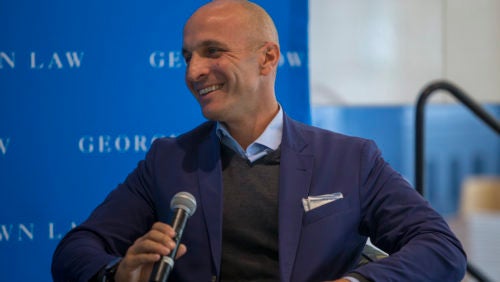 It was a fun homecoming for NBC Sports Group President Pete Bevacqua (L'97), when he returned to Georgetown Law this spring to speak in the Scott K. Ginsburg Sport & Fitness Center lobby.
Bevacqua assumed his position in mid-2018 after serving for six years as CEO of the PGA of America. The responsibility of overseeing the Olympics was added to his role at NBC Sports earlier this year.
During a conversation with Professor Brad Snyder (a former sportswriter with the Baltimore Sun) Bevacqua touched on subjects ranging from how he came to attend Georgetown Law to promoting diversity in golf — and how he strives to push NBC Sports ahead in the ratings hunt in an age when viewers often consume content away from traditional TV channels. He also discussed the growth of sports betting and e-sports.
He delved into how NBC Sports created its "over-the-top" (or OTT, direct to the consumer) strategy to add value for consumers who want content when and where they want it. Sports, he stressed, is the exception, however, because "people still want to watch sports content live, so the value of sports … is at the highest level of all time."
Bevacqua, who also considered attending film school, said he's "never worked harder" than he did at Georgetown Law, and talked about how it prepared him for his career. "I immediately loved law school, I loved Georgetown, I loved being in this city, I loved the fact that we were right near the Capitol and the Supreme Court," he said. "I loved everything about Georgetown."
His first class was Property with Professor David McCarthy, who had just stepped down as dean of the law school. "I had heard all these stories about [McCarthy's] style… What he would do is he would call on you in class, once, and you'd stand up, and he would keep you up there for like 90 minutes," he said.
And who was the first student McCarthy called on? "Pete Bevacqua. … and his first words out of his mouth were, 'Pete, I'm gonna use you to prove what everybody in this room does not know about the law.' And with that, he quizzed me about the cases that we had read."
That nerve-wracking experience eventually resulted in a long friendship. Bevacqua also cited professors Michael Gottesman and Peter Tague among the many "great professors" who had "such big personalities. … Tague and that voice he has," he said. "He was so commanding."
Opportunities
Bevacqua, a magna cum laude graduate of Notre Dame who worked for the law firm of Davis, Polk & Wardwell, the United States Golf Association and Creative Artists Agency after law school, offered this advice to students: "Don't be afraid to be bounced around," he said, later adding, "Far and away, the best opportunities I've had come my way are when I absolutely wasn't expecting them.
"Go to the best law school that you can get into. But," he added," don't go into something thinking you have [your career] all mapped out, because you don't." Wearing such blinders, Bevacqua said, can lead to "[missing] opportunities that come your way."