Professor Anthony Cook: Creating Communities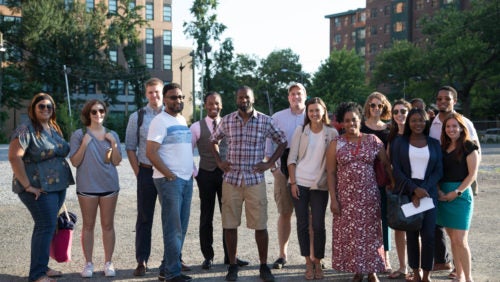 A brand-name hotel and luxury apartment building towering over an empty lot in Northwest Washington, D.C., are stark reminders of what Professor Anthony Cook's unique mixed-income "intentional community" concept is up against.
Cook brought his Community Development Seminar students to the site one steamy summer evening to scope out a potential home for GateBridge, Cook's planned low-, middle-, and high-income apartment community with an "incubator" for educational, employment, entrepreneurial and other initiatives for underserved communities.
The field trip provided a lesson on the challenges of building a community like GateBridge. Although it will be a challenge to beat proposals from traditional developers, city officials support the project and a developer is on board to underwrite the vision.
"Any kind of development is long term," Cook says. "Whether it's actually trying to build a building, create a unique space within a building or operate and sustain innovative programming within that space, it's long term and hard work. GateBridge is an attempt to do all three."
A combination of features will make GateBridge unique among affordable housing communities nationwide. First, it will offer unique incentives and amenities to market rate, workforce and low-income residents who might not otherwise choose to live together in a residential community.
Studies show that affordable housing works best when a middle-income population is included with market-rate and low-income tenants. The "Gate" in the project's name stands for "Government workers," "Artists," "Teachers," and "Entrepreneurs." GateBridge will target members of these middle-income occupations to live, learn and serve with low-income and market-rate residents.
The second piece is the "incubator" concept. Every resident will volunteer service hours each month to GateBridge Partner Services (GPS), the onsite incubator Cook describes as a navigation unit for community engagement and development.
"As far as we know, it will be the first community of its kind with an onsite incubator that orchestrates resident volunteer hours and creates an ecosystem to support ventures and initiatives benefitting underserved communities," Cook says.
GateBridge will house facilities for learning, collaboration, and community engagement, possibly renting out office space to organizations with a commitment to community service. One partner already onboard is the teacher training nonprofit Urban Teachers, which is planning to move its national headquarters into GateBridge. Teachers living in the community could offer after-school enrichment focused on social entrepreneurship and civic engagement project-based learning.
"I love the idea of entrepreneurship education, broadly defined," Cook notes. "Entrepreneurship is all about solving the problems faced by those in need, whether it's how best to use personal talents and skills to support oneself and family, how best to deal with food and health deserts or how to enhance civic engagement among community residents. The very process of problem solving and collaboration inspires a sense of possibility. Along the way, confidence, capacity, and life-long skills are developed."
Ultimately, Cook envisions a network of GateBridge residential communities throughout Washington, D.C., all working to build community wealth and capacity among underserved populations.
Cook conceived GateBridge out of his frustration over the growing income and wealth inequality during Washington's economic resurgence and the shrinking affordable housing options for workforce and low-income populations. For Cook's seminar students, GateBridge provides an opportunity to "learn how to look at these complex problems, analyze them and work with communities to develop creative solutions."
Working to better the community
Tyrone Pinkins (L'20) grew up poor in rural Mississippi and developed a passion for helping underserved communities. That's what drew him to Cook's seminar.
"When I saw this offered, I immediately thought back to my upbringing and the nonprofit I run," he says.
Pinkins founded the Pyramid Project, a youth mentorship and exposure program that brings teens from poor and underserved communities, largely from the Mississippi Delta region, to Washington. They stay for a week on university campuses, including Georgetown, and get a taste of college and careers.
For Cook's seminar, Pinkins proposed bringing this kind of work to GateBridge.
"Exposing kids to society, to social capital, economic capital, before they graduate from high school benefits the community they come from," he says. "It interlocks perfectly with community development."
Kayla Gebeck (L'21), an evening student whose day job involves lobbying on behalf of Native American tribes, says the seminar will help her better understand how to efficiently approach community development.
"I work with Native Americans often but I don't necessarily work in housing, so I've been reading the history of how the Natives lost their land, what the current housing conditions are, why it's like that," she says. "There are so many parallels with what's going on in D.C."
For Cook, what is needed is a "heart transplant" — meaning residents who want to give back to the communities they live in.
"This is not a community where people go to work, come back, eat, sleep and repeat," he says. "You try to give people a reason to come home, roll up their sleeves and work to better the community."