Professor Urska Velikonja and the SEC: Setting the Record Straight
Before Professor Urska Velikonja came to Georgetown, she says, she was not overly concerned about what was going on at the Supreme Court.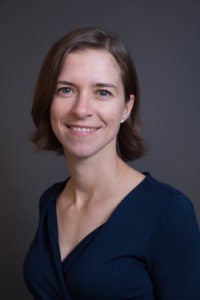 "I cared about securities enforcement," says Velikonja, who teaches Securities Regulation and a Securities Enforcement Seminar in addition to first-year contracts. "But you come to Georgetown and you really can't avoid the Supreme Court. It looms large inside the building, and it looms large outside of the building."
Which is why Velikonja's name is currently on an amicus brief to the Supreme Court in Lucia v. SEC, along with the name of Stanford's Joseph A. Grundfest. The case was heard by the Supreme Court on April 23.
The brief filed by the two professors actually takes no position on the merits of the case — which asks whether administrative law judges (ALJs) of the Securities and Exchange Commission are constitutionally appointed, i.e., whether these cases need to be litigated in federal district court instead.
What Velikonja and Grundfest's amicus brief does is take issue with recent reports in national newspapers alleging that the SEC is more likely to prevail in administrative (ALJ) proceedings than in court. Petitioner Lucia and several other amici are relying on these reports to claim that the SEC has an unfair "home court" advantage in cases before ALJs.
The news stories have led to the conclusion, cited in the petition and in five other amicus briefs, that the SEC sends more than 80 percent of cases to administrative proceedings and wins 90 percent of the time in those cases.
Not true on either count, says Velikonja — who has collected data on the subject with the help of former student researcher Emma Elliott (L'17).
"Even lawyers have a hard time understanding SEC enforcement, the different types of cases, what's comparable, what's not comparable, and enforcement actions are somewhat hard to parse and collect," she says. "The reporters who suggested that SEC's ALJs are biased are not lawyers; in preparing their comparison, they focused on an incomplete subset of SEC cases. They looked only at outcomes after trials, and neglected summary judgments, when summary judgments are much more common than trials in court. Their misunderstanding fueled the litigation leading to the Supreme Court in Lucia v. SEC, so is kind of a big deal; it's really worth setting the record straight."
Ramifications
The ramifications could be huge.
"One possible scenario is that the Supreme Court says ALJ proceedings like these are unconstitutional per se, that every action that the SEC brings has to be litigated in court," Velikonja says, noting that that would upend not so much SEC enforcement, as the SEC could and does bring contested cases in court.
"What it would change is things like the Social Security Administration, which houses the vast majority of administrative law judges. It would change every other agency and how they are supposed to bring their enforcement actions. That would be the most extreme scenario…it's getting some defendants, and potential defendants, very excited."
Georgetown Law's Supreme Court Institute mooted the case on April 18. To file her amicus brief in the Supreme Court, Velikonja reached out to an expert — Professor Brian Wolfman, who heads Georgetown Law's Appellate Court Immersion Clinic — for pointers from formatting to procedure to substance. Wolfman is counsel of record on the brief. "He has been doing this for his entire career, so it was nice to hear from him that this is a good brief," Velikonja says. "But I will say that if Brian had not been involved, we would have not have met the deadline."
And in her research going forward, she's working with two students in Professor Paul Ohm's computer programming class, Kelly Truesdale (L'18) and Ahmad Al-Dajani (L'18), to help with data collection. "I've done it all by hand, and one could use a computer program," she says. "It's still going to require a personal touch — but hopefully less of a personal touch."