Reconstruction and the "Unfinished Revolution": A Conversation for the Graduates Between Harvard Professor Henry Louis Gates Jr. and Georgetown Law Dean William M. Treanor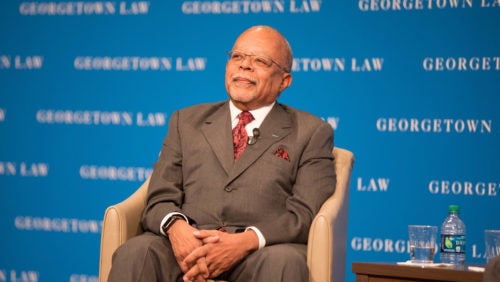 The story of Reconstruction and its overthrow, after only a dozen years, said Henry Louis Gates, Jr., "shatters all notions that history is a straight line, drawn inexorably towards progress. And in that shattering is a lesson for all of us: vigilance."
Gates — Harvard University's Alphonse Fletcher University Professor and director of the Hutchins Center for African and African American Research — addressed some of Georgetown Law's 2019 graduates, faculty and staff in Hart Auditorium on May 14, following a conversation with Georgetown Law Dean William M. Treanor.
Treanor, who is a historian as well as a lawyer, called Gates one of the most "luminous figures" in the country. "[He has] influenced our thoughts about race and justice…he has won numerous awards…I was more influenced by him than anybody else in my academic career," the dean said.
Gates, who served as a teacher and mentor to Treanor while the latter was an undergraduate majoring in Afro-American Studies at Yale, clearly enjoyed the reunion, which included Nancy S. Marder of Chicago-Kent University School of Law and Fordham Law Professor Russell Pearce in the audience. Treanor, Marder and Pearce all graduated from Yale between 1978 and 1980 with a major in Afro-American Studies, which at the time was so new as a discipline, Gates said, that he would approach undergraduates on Yale's campus to persuade them to participate.
Gates spoke about his recent book Stony the Road: Reconstruction, White Supremacy, and the Rise of Jim Crow (Penguin Press, 2019) and his recent PBS documentary, "Reconstruction: America After the Civil War (2019)," part of which was shown at the event. Gates wanted to focus on post-Civil War Reconstruction to help explain recent atrocities like the June 17, 2015, murder of black parishioners as they prayed in a Charleston church. "Why is this happening?" the documentary asks. "If we are looking for the roots of the tragedy at [the Emanuel African Methodist Episcopal Church], this is where we have to start."
'Unfinished Revolution'
As the documentary demonstrates, African American men during Reconstruction saw opportunities that they had never had seen before. They were elected to the U.S. Congress and South Carolina became the first state legislature with a black majority in 1868. But the more they achieved, the more they put their lives at risk. Gains were reversed as black men were deprived of the right to vote and discrimination, segregation, and hate took hold. "If you don't know the history of Reconstruction, if you don't know what was tried and then dismantled, then your inference of why we still have these problems is, it's a problem with the people… — rather than, it's a problem of an unfinished revolution," one scholar says in the film.
After the screening, Gates spoke of his youth in West Virginia, his academic career and his friendship with entrepreneur Mark Mamolen (who would later attend Georgetown Law and subsequently endow a chair now held by Professor Julie Cohen). Gates was the first African American to be awarded a Mellon Fellowship and he earned a Ph.D. in English literature at Cambridge University. He attended law school briefly at Yale but would end up teaching English and Afro-American Studies there. He subsequently taught at Cornell, Duke and Harvard. "You are a better teacher when you are teaching brilliant students," he said to Treanor. "You did as much for me as I did for you."
The May 14 event was the first of two lectures to the Class of 2019, which graduates on Sunday, May 19. House Speaker Nancy Pelosi (D-Calif.) will speak in Hart Auditorium on May 16; New York Solicitor General Barbara Underwood (L'69) will address the graduates at Commencement.
Inspiration and Hope
Gates had a special message for the graduates: As we grapple with the rollbacks following the eight-year tenure of the first black president, he said, "we can't escape our own civic duties to preserve the gains we've earned — by exercising our vote, holding those in power to account, defending our democratic institutions and lifting each other up when the will of others becomes sapped and fear and anxiety crowd in."
There is an urgency, he said, to spreading the word about Reconstruction today: "Without wrestling with this chapter in our past, we can't make sense of why we needed the Civil Rights Movement 100 years after the Civil War. We can't gird ourselves from the hard work that democracy requires. And we can't honor our ancestors [who pushed] for the right to freedom and equal citizenship long denied them, even after the tsunami of white supremacist resistance overwhelmed Reconstruction and the federal government retreated from its responsibilities."
He urged graduates: "We must defend the right of every American to vote. We must defend the very affirmative action programs that launched so many people of color, and women of all colors, into positions of power and authority. We must end the madness of mass incarceration, and its devastating impact on the African American community. We must fight for health care as a right for all Americans, and we must fight to keep the pipeline of educational opportunity open for the next generation and the next generation."
We cannot turn back the clock, Gates said. "Those of us who love truth and justice, and the principles of democracy upon which this nation of ours was founded, must…find inspiration and hope in the Reconstruction generation — but also courage — even when the tide is rolling against us."