RISE Program Helps 1Ls From Historically Underrepresented Backgrounds to Thrive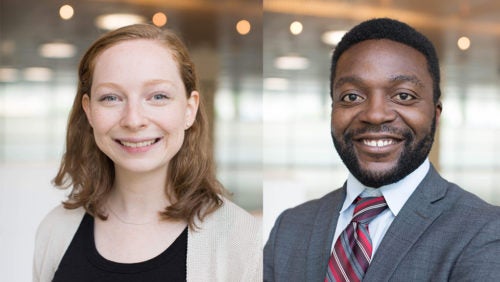 When Megan Lipsky (L'21) was preparing to go to Georgetown Law from the University of Miami in the summer of 2018, she learned about a new Georgetown program called RISE. Officially launched last year, RISE is designed to support incoming J.D. students from backgrounds historically underrepresented in law school and lawyering — including but not limited to racial, ethnic, geographic, socioeconomic, and first-generation college backgrounds.
"I thought, that sounds really cool, and I want to be a part of this," said Lipsky, a political science and philosophy major who completed an undergraduate honors program in law. "I'm the first generation in my family to go to law school, so having a program like RISE to help me figure out where the benchmarks and the measures of success in law school [are] — doing journal or moot court, or taking classes that would help me later on in practice — I'm grateful for a program to teach me the unwritten curriculum of law school."
Chiemeka Onwuanaegbule (L'21), a Brown University graduate who later taught high school literature and biology, needed a smooth transition back into being a full-time day student in law school.
"I had to hit the ground running, and I didn't have time to do any studying beforehand — I was working until a week before the program started," he said. "Coming into RISE has changed my entire world. "I don't know where I would be if I didn't do this program."
The RISE program, which starts on Sunday, August 18, and ends on Friday, August 23, consists of a rigorous week-long "pre-orientation" the week before the official J.D. and graduate orientation starts on Monday, August 26. For the approximately 67 incoming J.D. students who are accepted into the program, there are opportunities to participate in simulated classes and exams; enhance leadership and professional skills; and meet faculty, staff and students before classes begin. Opportunities continue throughout the 1L year to hone critical thinking and legal writing skills, and to explore the legal profession.
"[RISE meets] a week early, so before Orientation started [we] were doing a doing a civil procedure class in the morning and meeting with professors, faculty, staff, in the Georgetown community in the afternoon," Lipsky said, noting that students read the classic 1L cases Pennoyer v. Neff and International Shoe. "I met a group of six or seven of my [Section 3] classmates, so when people were [anxious] about cold calls on the first day, we had already gone through a class, taken a mock exam, networked with people and met with people who had our best interests at heart."
After that first week, RISERS, as they dubbed themselves, had "a lot of informal meetings" with peer mentors and teaching mentors, Onwuanaegbule said.
"The peer mentors helped us with the social aspect, my class schedule, where I should get a haircut," he said. "Teaching mentors were tutors for a specific subject — I met with a teaching mentor once a week and it was five of us talking about civil procedure, a class I had difficulty in."
Academic Success
Maura DeMouy, director of Academic Success, and Nicole Sandoz, director of Student Life, lead the RISE program.
"RISE is designed to ensure [that] every student at Georgetown Law reaps all the benefits of our outstanding curricular and co-curricular offerings," DeMouy said. This year's students, she said, will see additional segments focused on career development, and there are further plans to develop the program. "It is one thing to admit students from underrepresented backgrounds. It's another to…invest in the programming and develop the community that will ensure [that students] reach their full potential and hit the ground running when they join the profession. I know how incredible these students are because I work with them so closely, but I am thrilled to see the success they are having in the classroom and in the job market."
The leadership of Dean William M. Treanor in recognizing the importance of creating and funding RISE has been "phenomenal," DeMouy said. "We feel very lucky to work at a law school with such a deep, talented pool of colleagues to bring this project to life. RISE truly has involved the entire Law Center community."
Options
The initial class of RISE students are on their way to success. Lipsky, who spent the summer in a constitutional litigation externship at Americans United for Separation of Church and State, foresees an externship at the Equal Employment Opportunity Commission, work with an administrative law judge, and possibly the Appellate Advocacy Clinic. She was selected for Georgetown Law's Barristers' Council, Appellate Advocacy division, having reached the semifinals at the 2019 Beaudry Competition (not an easy feat). And she's been working with the Georgetown Law chaplains: Mary Novak, associate director for Ignatian Formation; Jewish Chaplain Michael Goldman (L'69) and Muslim Chaplain Imam Hendi.
She's also keeping her options open at this stage. "Everyone goes to law school to make the world a better place, and I'm trying to figure out how best I can do that."
Onwuanaegbule, who spent his 1L year working at Georgetown Law's Office of Public Interest and Community Service, spent the summer working for Prudential, is now interested in tax, finance and tech — something he could not have envisioned, as he came to law school focused on politics, education and regulation. "I'm trying to take a Fintech class with Professor Chris Brummer, and [I want] to intern with the SEC and with a tax court judge — to get to see all sides of the world, and make a decision from there."
And they are happy to have been a part of RISE. Onwuanaegbule, now the treasurer of the Black Law Students Association, notes that the many of the members of the inaugural 2018-2019 RISE class are now in some kind of leadership role on campus.
"Maura and Nicole do an amazing job…you never feel smothered, but always feel supported," he said. "RISE helped me demystify law school and identify areas of support."