Sally Yates Joins Georgetown Law for the Fall Semester
Georgetown Law is pleased to welcome Sally Yates, former Acting U.S. Attorney General, as a Distinguished Lecturer from Government.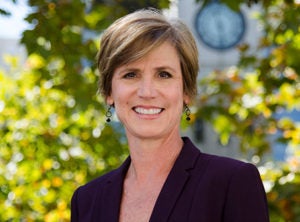 "Sally Yates is an extraordinary public servant who has had a career of the greatest consequence," said Georgetown Law Dean William M. Treanor. "It is a privilege to have her join our faculty this fall."
Yates is a long-time veteran of the Department of Justice, rising from the ranks of Assistant United States Attorneys to become U. S. Attorney, Deputy Attorney General, and finally, Acting Attorney General.
Yates's appointment is part of Georgetown Law's Distinguished Visitors from Government program, which brings former officials who have recently left public service to campus. This fall, Yates will guest lecture and serve as a resource for students, participate in faculty workshops, and engage in other Law Center programming.
On Nov. 1, Yates will deliver Georgetown Law's annual Philip A. Hart Lecture, named for the distinguished U.S. Senator and Georgetown alumnus.
"I am honored to be joining Georgetown Law for the fall semester," said Yates. "Georgetown has a long and distinguished history of rigorous and thoughtful academic dialogue and a commitment to social justice. I look forward to being a part of this dynamic environment and interacting with their outstanding students and faculty."
During her tenure at the U. S. Attorney's office in Atlanta, Yates prosecuted a broad spectrum of criminal matters, specializing in white collar and public corruption cases. Notably, she led the prosecution of Atlanta Olympics bomber Eric Rudolph and prosecuted a long line of state and local officials for corruption offenses.
As Deputy Attorney General, Yates was responsible for overseeing all facets of the Justice Department's work, including its four law enforcement agencies (the FBI, ATF, DEA and Marshals Service), its prosecutorial, litigating and national security components, the Federal Bureau of Prisons, and the department's various grant-making and legal services offices.
In addition to managing the day-to-day operation of the Justice Department, during her tenure as Deputy Attorney General, Yates focused on criminal justice reform and prison reform; ensuring individual accountability for corporate wrongdoing; and utilizing prosecutorial resources in a focused manner to build safer communities.
Along with Yates, additional Distinguished Lecturers from Government on Georgetown Law's faculty this semester are Matthew Colangelo, who most recently served as Deputy Assistant to the President for economic policy and Deputy Director of the National Economic Council at the White House; M. Tia Johnson, former Assistant Secretary of Legislative Affairs at the Department of Homeland Security; and Karl Thompson, former Principal Deputy Assistant Attorney General in the Justice Department's Office of Legal Counsel.