Scholar Who Shaped U.S. Study of Chinese Law Shares Latest Insights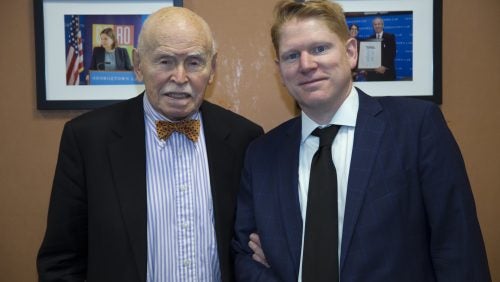 Addressing a packed room on campus, a pioneering scholar of Asian Law made a strong case for the United States to more deeply engage with China.
Jerome Cohen, professor at NYU Law School and senior fellow at the Council on Foreign Relations, argued that any effort to fully decouple the two countries – both economically and politically – was doomed to failure.
"We live in a very chaotic world," Cohen said, laying the blame for growing tensions in the U.S.-China relationship at the feet of officials in both Washington and Beijing. "The fact is, things aren't going well in either capital. And yet we have to get better."
Georgetown Law's Center for Asian Law and the Georgetown China Law Society hosted Cohen on Feb. 5 to deliver a lecture titled, "Law and Power in China and in its International Relations."
Cohen also gave a broad overview of China's approach to international law in the era of Chinese President Xi Jinping, covering economics, national security, human rights, and international diplomacy. He expressed concern that China's behavior has been increasingly assertive, but also hope that key members of the international community could find new ways to nudge the People's Republic in a more constructive direction.
"It was an honor and a pleasure to welcome Jerry back to Georgetown Law," said Associate Dean James V. Feinerman, who oversees graduate and international programs at Georgetown Law. "Jerry is one of the founding fathers of Chinese law study in the United States, and my own former professor and mentor. His analysis of the key trends in Chinese approaches to international law and politics was both trenchant and wide-ranging. His talk was a great opportunity for our students to hear directly from one of the top voices in the field."
That sentiment was echoed by Austin Lowe, a 1L student and Global Law Scholar who hopes to work at the forefront of the U.S.-China relationship as a future attorney. For Lowe, the talk was another exciting opportunity to explore Chinese legal issues beyond Georgetown's numerous related course offerings.
"[Cohen's] grasp of the challenges facing the U.S.-China relationship, in terms of both international law and the interaction between our two legal systems, is unparalleled," Lowe said. "I was grateful that the Center for Asian Law offered us the opportunity to engage with him."
Many graduate students were also in attendance. LL.M. student Jamal Tonzua Seidu, who is studying international investment arbitration, found the context Cohen gave around China's business interests illuminating.
"Professor Cohen's talk has enabled me to strengthen my opinion that China will adopt a pro-arbitration posture to protect its huge foreign investments," he said.
In his remarks, Cohen also addressed cross-Straits relations, praising the efforts by his former student, former Taiwanese President Ma Ying-jeou, to improve economic ties between China and Taiwan. Cohen expressed concern that Xi might move to try to settle the Taiwan question before the end of his tenure as China's top leader.
"I fear the Taiwan question could come back to haunt us," Cohen noted, pointing out that the U.S. has a strong stake in continued peaceful relations between Taiwan and mainland China.
During his remarks, Cohen offered several specific recommendations for both governments, and for students thinking about careers in international law. "The agenda is enormous," Professor Cohen told the many students in attendance. "And all of you have a chance to make a real contribution."