Senator Amy Klobuchar: Fighting Human Trafficking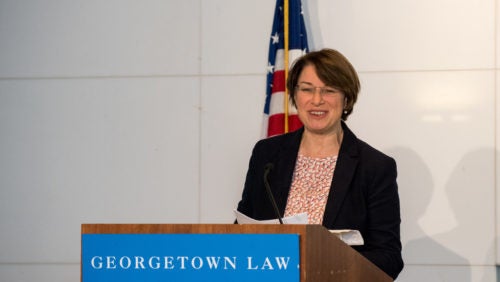 The 6th Annual Hotel and Lodging Legal Summit at Georgetown Law October 26-27, sponsored by the Continuing Legal Education program, explored the latest developments in hotel law and tourism. But the luncheon address by Senator Amy Klobuchar (D.-Minn.) spotlighted one concern relating to travel that goes to the heart of the Law Center's commitment to human rights: ending human trafficking.
"Each year, millions of people around the world are held in forced labor or in sexual servitude," Klobuchar said, noting that the trafficking of humans is the third biggest illegal enterprise in the world after drugs and guns.
In her home state of Minnesota, prosecutors in recent years got the case of a 12-year-old who was lured via text message to a parking lot, where she was kidnapped, raped, sold on Craigslist, and raped two more times by buyers.
In 2016, over 8000 cases of potential human trafficking were reported in the United States. "We love the Internet…It is the cause for much good, but it also…has enabled more people to try to buy people," Klobuchar said.
As the next Super Bowl is in Minnesota, she is working with the NFL and victims groups to raise awareness of the problem. Sen. John Cornyn (R-Tex.) have also worked on legislation to go after perpetrators and to recognize children as victims — not prostitutes.
In addressing the problem, there's an important role for private industry — truckers have formed "Truckers against trafficking," a nonprofit that trains truck drivers to recognize and report instances of human trafficking. Hotel staff and flight attendants are also being trained to keep an eye out for perpetrators and victims. "One [flight attendant] told me, when they proposition me, and I see them sitting with a young girl, it's kind of a good guess," she said. "You have to make people feel like they are part of the solution."
Klobuchar has also traveled to Mexico to speak to children who have been trafficked. "There was this one girl…who just cried the entire time…," the senator recalled. "As I looked at her, I thought about something that a Syrian refugee had told me in a camp in Jordan — what she had seen in her life would make stones cry. I thought that about this little girl — what she had seen would make stones cry. We have to be the voice for these vulnerable people."
Summit
The two-day CLE summit featured panels on hotel management agreements, hotel industry general counsel, cybersecurity, labor and employment issues and much more.
"We were pleased to host over 300 hospitality attorneys at this year's Hotel and Lodging Legal Summit. Senator Klobuchar's luncheon address was very well-received by our participants. We are grateful for her work on this important issue," said Jill Castleman, executive director of Georgetown Law Continuing Legal Education.