Shon Hopwood: A Different Kind of Public Interest Lawyer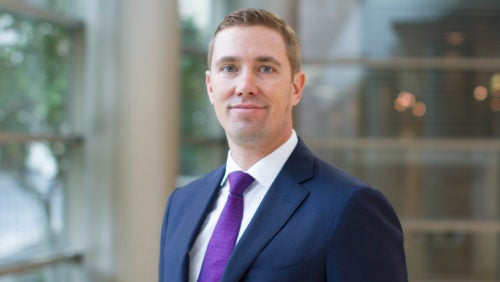 Shon Hopwood, a second-year fellow in Georgetown Law's Appellate Litigation Clinic, is joining the Georgetown Law faculty as an associate professor. Hopwood's astounding personal journey that brought him to the law has been recounted in media outlets including the New York Times, NBC and the Washington Post, and also told in his memoir, Law Man: My Story of Robbing Banks, Winning Supreme Court Cases and Finding Redemption (Crown, 2012).
While serving time in a federal prison beginning in 1999, Hopwood became a self-taught jailhouse lawyer who would see two of his cert petitions granted by the U.S. Supreme Court. Former U.S. Solicitor General Seth Waxman, who would argue Fellers v. United States (2004) before the Court, became a mentor, encouraging Hopwood to go to law school upon his release.
Hopwood subsequently received a J.D. as a Gates Public Service Law Scholar from the University of Washington School of Law and served as a law clerk for Judge Janice Rogers Brown of the U.S. Court of Appeals for the District of Columbia Circuit. Hopwood's legal scholarship has been published in the Harvard Civil Rights-Civil Liberties, Fordham, and Washington Law Reviews, as well as the Georgetown Law Journal's Annual Review of Criminal Procedure.
We talked with him about his future, his past, and the impact he would like to make regarding the criminal justice system.
What will you be teaching at Georgetown?
Criminal justice, which is criminal procedure for first-year students. The second semester, I will be teaching the constitutional rights of prisoners.
What will be the focus of your scholarship?
Every part of the American criminal justice system. The fact that we have the highest rate of incarceration of any country on the planet — I will be looking at that from almost every angle. I plan to write on criminal procedure, prisoner rights, prisoner conditions, those areas of the law.
You are currently a fellow at the Appellate Litigation Clinic? What projects are you working on with Professor Steve Goldblatt and Professor Erica Hashimoto?
We have cases in a whole host of areas — immigration, indigent prisoners challenging their conviction or sentence, prison conditions, we have a case involving a transgender person who is in civil sexual confinement… One of the big cases we have before the D.C. Circuit is whether the Freedom of Information Act — which all sorts of people use to get information about what the government is doing — whether you waive that right in a criminal case in a guilty plea. We have a 3L student who will be arguing that case on May 10.
What gets you fired up about teaching?
I like the energy that the students bring…I look forward to talking about how to be a lawyer and what the law does. I hope to bring a little different perspective in that these aren't just words on the page, that these have a real world human impact with prisoners and their families, society and the victims of crime. You wouldn't get that context from just reading a legal textbook.
You really have two different backgrounds. On the one hand, there is your scholarship, a federal clerkship with Judge Janice Rogers Brown of the D.C. Circuit, a Gates Public Service Law Scholarship to the University of Washington School of Law, and now, law professor…
I've always seen myself as a public interest lawyer who wants to do criminal justice reform. It's only recently that I've thought about where I could best do that, and why teaching would work best for me… it's kind of a multiplier. You have an interest in an area of law, your students get interested, they go off to be criminal defense lawyers. That will probably be the biggest impact I have on the criminal justice system, teaching students about criminal law and exposing them to things that I am passionate and eager to learn more about.
And you have another background that led you to law school; you've written a book about it.
I don't know that there's another law professor on the planet that has served time in federal prison…I understand the impact. It's one thing to talk about a sentencing issue abstractly but it's a different matter to know that when your client is getting sentenced to know exactly the type of punishment they are going to face. And that even when they finish their sentence, the punishment is never going to end. It's one of the reasons why I don't think I would be a good public defender, because I can feel the punishment that my clients are going to face.
Having lived it, what are your thoughts on the criminal justice system in America — the number of people who are locked away in prison?
There seems to me to be a fundamental inconsistency between the United States claiming to be the most free, the country of liberty — and then incarcerating its citizens at a greater rate than any country in the world. Right now, the criminal justice system doesn't benefit most people. It doesn't benefit crime victims, it doesn't benefit taxpayers, it doesn't benefit families of people that go to prison and it surely doesn't benefit the people who go to prison.
We have systemic problems with racial disparities in the criminal justice system, overpunishment, always trying to fix social problems on the back end. We don't do enough to address mental illness. It's just this constant revolving door. We actually had a name for that when I was in prison…it's called doing life on the installment plan. People would come in for a few years, go out for a few years, and the next thing you know they've done 30 years inside a prison and outside a prison, four or five times. And that doesn't really help anyone.
There are a lot of talented people in prison. And almost all of them have the capacity to be redeemed and make a new life for themselves. The problem is that they have no way of doing that. It's very hard to be a productive law abiding citizen if you can't work and you don't have a house. So we have to find a way to give these people a second chance.
You worked in the law library in federal prison?
I checked out books to other prisoners. In June of 2000 the U.S. Supreme Court handed down a decision that I, along with every other federal prisoner in the country, thought could apply to the federal sentencing guidelines (Apprendi v. New Jersey (2000)) and that maybe it would allow me to seek a sentence reduction. And so I started trying to learn the law. I was never successful in getting legal relief for myself, but I really enjoyed the process of solving this legal puzzle, writing out the solution and then sending it off to the court to get an answer.
How did you know how to do the research and the writing?
I didn't. I had a high school degree, but I had not taken an undergraduate English class. I not only had to learn the law, I also had to learn how to write. I didn't have the resources that we had here. I was using books, rather than Westlaw or Lexis. I didn't have a computer or Internet. I had a typewriter that I would peck out all of these legal briefs on. For some reason the law and legal arguments always made sense to me and clicked in my head in a way that other academic endeavors did not.
Did you look at model briefs?
I looked a lot at briefs filed by a great mentor of mine, Seth Waxman, who is a [Distinguished Visitor from Practice] here and is the former solicitor general of the United States. He is the lawyer who took over the Fellers case once I had prepared the petition for John Fellers and the Court had granted [certiorari]. At one point I asked the lawyers in his firm if they would just send some briefs into the prison. And they sent me a box of briefs that the law firm had prepared and filed in the Supreme Court. I am a "learn by example" kind of person, so I just modeled my own writing off of theirs.
Talk about Fellers v. United States, the case of your fellow prisoner that you got before the Supreme Court.
It was a right to counsel issue. The police had come into his house, they did not read him Miranda warnings, they started saying, hey John, we want to talk about your involvement in a conspiracy to distribute meth. John talks, makes incriminating statements, they arrest him, drag him to the jailhouse, give him a form to waive his Miranda rights. He signs it, they ask him the same questions over, he thinks, well, I already let the cat out of the bag once, there's no reason I shouldn't do it again — not knowing that those first rounds of questions were not admissible because they had violated his Sixth Amendment right to counsel.
How were you contacted to learn that the Supreme Court had granted your cert petition?
After we filed John Fellers' petition, John transferred to another prison and I largely forgot about the petition. I found out about it walking out to the recreation yard to go work out at 6:30 in the morning and a friend of mine came running out of the housing unit. He was running and screaming and yelling, "Shon, Shon, Shon!" This being federal prison, the first thing I thought of was, what did I say to this guy yesterday that he wants to come fight me at 6:30 in the morning? But you don't normally go to a fight with a newspaper in your hand. And what he had was a copy of USA Today, saying that the Court had granted John Fellers's case.
How did you connect with Seth Waxman?
When the Court granted John's case, he had 20 or 30 lawyers calling the prison saying they would take his case for free. But John had found out that Seth was one of the best and so he called Seth to see if he would take the case. Seth said, I don't know if anybody has told you this, but you filed a really good petition for someone who is not a lawyer. And John said, that wasn't me, that was a friend of mine. And Seth said, is there any way we can keep him involved?
And so [the lawyers] did. They sent drafts of the brief that they had prepared into the prison so that I could make notes and send them back out to the attorneys — even though at this stage of my life I had self-studied the law for 18 months and had a very limited world view. The Court ruled unanimously in our favor after Seth had argued the case. John got a remand and the end result was he got four years taken off of his sentence.
How did you get to the University of Washington School of Law after you got out?
I didn't think I could, but my wife suggested that I apply to law school and then Seth Waxman told me I should. And a whole lot of other people said, no school is going to accept you. But you get a really smart, beautiful amazing woman to tell you to do something, and a former solicitor general of the United States who confirms it, you start to drink the Kool-Aid. I applied to law schools all over the place — a good percentage of them said no. And now I'm going to be teaching [at Georgetown]. I'm just astounded any time I think about that.
Thoughts about the Georgetown Law community?
I've just been incredibly grateful for the Jesuit ethos of Georgetown. It very much feels like a place where people are dedicated to doing public service. And it also feels like a welcoming place. One of the things I worried about when I came here was, would people accept me, given my past? And I can tell you that from the moment that I walked in the door, from students to faculty to support staff, everybody has been warm and welcoming and accepting. I'm incredibly grateful that I have help and support in the work that I'm doing in the courts, work with students.
The defining characteristic of my life is the grace that people have poured out on me. I have been given grace from other people time and time again. That's the reason why I'm sitting here and that other prisoners are not.