Supreme Court Institute Celebrates Another Successful Term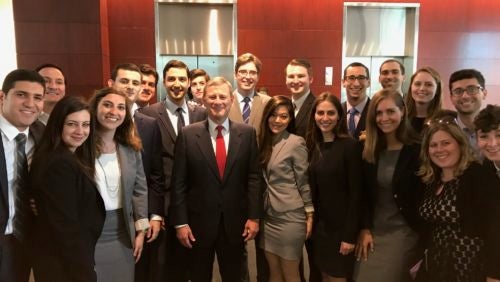 At the end-of-term reception on April 27, Georgetown Law's Supreme Court Institute honored Jeffrey P. Minear, the Counselor to the Chief Justice of the United States — along with everyone who participated in the Institute's moot courts this year. So it was fitting that the Chief Justice himself would come to the Law Center to offer words of praise about his colleague.
"Jeff Minear has carried out all his responsibilities with an overriding focus on…making sure that I get the credit," Chief Justice John G. Roberts joked, to appreciative laughter.
Roberts also praised the Supreme Court Institute's Moot Court Program, which prepares lawyers about to argue before the Supreme Court.
"I was the beneficiary of the Institute on pretty much every one of my cases, when I was arguing the cases before the Court, and found the experience to be valuable," the Chief Justice told the guests. "I'm still finding that the work of the Institute is [helping] to prepare counsel to argue before the Court. We are the direct and immediate beneficiaries of your efforts, and we very much appreciate it."
Guests at the ceremony celebrating Minear — a leading member of the Supreme Court bar who has served as Counselor to the Chief Justice since 2006 — included Justice Elena Kagan and Edwin S. Kneedler, Deputy Solicitor General of the United States. Kneedler, who spoke briefly at the event, called Minear "a terrific ambassador" of the Court.
SCI Director Dori Bernstein (LL.M.'89), speaking for Faculty Director Steven H. Goldblatt (L'70) and Executive Director Irv Gornstein as well as herself, thanked all the volunteers, professors as well as members of the Supreme Court bar, for acting as justices throughout the year — providing the feedback that makes the moot court program so valuable to advocates appearing before the Court.
"This program is such a source of pride for us," said Georgetown Law Dean William M. Treanor, noting that students also benefit by watching the nation's best advocates hone their Supreme Court oral arguments. For the second time in the program's history, the Institute mooted counsel in every case that went before the Supreme Court this year. "It's something that's unrivaled, and I want to thank all of you for making that possible."