Supreme Court Justice Ruth Bader Ginsburg Inaugurates Annual Lecture Series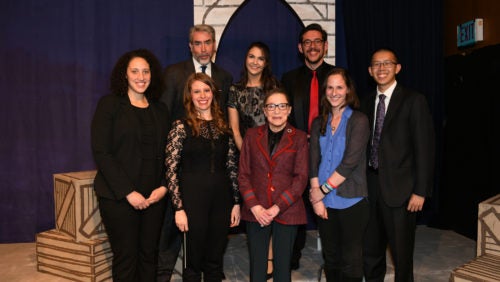 On Friday, April 6, Supreme Court Justice Ruth Bader Ginsburg visited Georgetown Law to celebrate a new lecture series named in her honor.
Ginsburg has visited Law Center's campus often in recent years: she spoke to Dean William M. Treanor and incoming 1L students in Hart Auditorium in September, and surprised upperclass students at Adjunct Professor Mary Hartnett's "Week One" class, "Supreme Court Topics: The Role of Dissenting Opinions," in January.
This most recent appearance before an audience of graduating 3Ls was no less compelling. The conversation was guided by Hartnett and Professor Emerita Wendy W. Williams, in their roles as Justice Ginsburg's authorized biographers. Ginsburg's My Own Words was published with the help of Hartnett and Williams in 2016.
The April 6 conversation began with a look back at a videotaped introduction of the justice by her affectionate husband, Georgetown Law Professor Martin D. Ginsburg, at the 20th anniversary of the Women's Law and Public Policy Fellowship Program in 2003. Professor Martin Ginsburg died in 2010.
"As everyone can appreciate, he was a very funny fellow…" the justice said after the video had played. And as she has said before, when talking about her early dates at Cornell with her future husband, "this was a young man who cared that I had a brain."
She described being one of nine women and 500 men in her class at Harvard Law. "We felt that all eyes were on us…so we were super prepared [for classes]," the justice said.
And though she was at the top of her class at Columbia Law, where she eventually transferred, employers were reluctant to hire a woman. She was the mother of a daughter, Jane (now a law professor at Columbia). So young Ruth Bader Ginsburg needed a male professor to fight for her, to convince a judge to give her a clerkship and a chance.
On work-life balance, she noted how her son's teachers always called her in the 1970s when he playfully acted out, such as taking an unauthorized elevator ride on a dare. She told administrators that it was only fair to call Marty too. "Marty's response was, 'So he stole the elevator. How far could he take it?'…" Ginsburg recalled. "The school was far more reluctant to take a man away from his work."
Flourishing
Ginsburg became a fierce advocate for women's rights, choosing the ACLU because its cases focused on both men's and women's issues. She spoke of her work on Reed v. Reed, a 1971 Supreme Court case striking down a state law giving priority to men as the administrator of an estate.
Regarding her work on the bench, Ginsburg spoke of her 1996 majority opinion that opened the Virginia Military Institute to women. "To go to [VMI today] and see that school with its women cadets flourishing…" she said. "It was the government of the United States telling the state of Virginia, you cannot operate a facility that excludes half of the population."
She provided a light-hearted glimpse of her work with her personal trainer, and thoughts on the Scalia/Ginsburg opera.
At the end, the justice was serenaded by members of Georgetown Law's Gilbert and Sullivan Society, performing "My Eyes are Fully Open," from "Ruddigore."
Dean William M. Treanor, who introduced Ginsburg, called the justice "a legend in the law and in life."
"Even if she had never been a judge or a justice, she would still have earned a great place in legal history for her groundbreaking work as an advocate for gender equality," Treanor said. "And who else has become a cultural icon?"