Taking the Mystery Out of Law School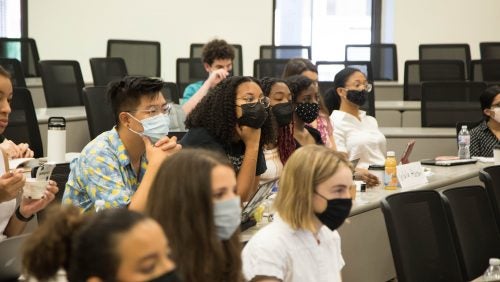 Most lawyers can still vividly recall the nerve-wracking first days of law school — stepping into an unknown world of case law and cold calls.
As Georgetown Law prepares to welcome 568 new J.D. students next week, faculty, administrators and upper-class students are pitching in to ease the transition.
This orientation week, a variety of informational, academic preparedness, wellness and social activities are on the docket for 1Ls and new evening students, as well as incoming LL.M. students and transfer students. And last week, Georgetown Law's RISE program kicked off its fourth annual pre-orientation week for its student fellows from underrepresented backgrounds with its biggest incoming class yet — 109 J.D. students.
RISE activities included mock classes and sessions on lawyer skill building, exam-taking tips, career paths, mindfulness and a new four-day course on "Contemporary Bias and the Law," taught by Associate Professor Jamillah Bowman Williams. A number of RISE upper-class fellows also spoke to the incoming cohort, sharing insights from their own experiences in adjusting to and succeeding in law school.
Among them was Sephora Grey (L'22), who helped lead a RISE session on "Setting Your Pace for Law School Success" and recently started her very own podcast, Topping the Curve, which aims to take the mystery out of the law school experience for new and prospective students from underrepresented backgrounds and beyond.
We sat down with Grey to learn how she's drawing on her own experience with RISE, her law school career to date, and podcast conversations with classmates such as RISE fellow and Student Body Association President Jade Baker (L'22) to help would-be lawyers thrive.
You've come back to school early to help with this year's RISE pre-orientation week. What's been especially valuable to you about the program and what motivates you to give back?
It wasn't until school actually started that I truly understood how beneficial RISE is for incoming law students. I started going to classes, and I remember thinking, "Wow, that practice class we get to do in RISE, class is actually like that."
I met some of my closest friends in RISE, and also met some of my mentors who were crucial to me throughout my 1L year. In my 2L year, when Maura DeMouy [director of academic success] sent out an email asking people to be mentors, I said, "Yes, absolutely," because I wanted to give back and be part of something that was so great.
This year, I'm going to be helping out with a pilot program, the RISE Writing Fellows. That's another great thing about RISE — it's constantly improving, constantly providing more opportunities to underrepresented students to help them acclimate to law school. I'm glad that Georgetown realizes the importance of it.
What are some of your top tips to help newly arriving law students succeed?
First, take as many practice exams as you can. You're going to learn how a particular professor tests her students, and also what she's looking for in a good exam answer. And there's a sort of muscle memory that kicks in when you're taking the actual exam, which eases a lot of tension.
Second, talk to your professors. Go to their office hours. Every professor is different, and if you want to do well on their exams, ask them what they're looking for. It may seem like they're hard to reach, but in my experience they're really personable. Some have become my mentors. They can give you valuable advice that you might not get anywhere else.
Finally, try to read before the week starts. I did all my reading on the weekend as a 1L. That gave me time to understand the law, and allowed me to go to office hours, take practice exams and go to extracurricular activities. You'll have time to review your notes before class.
Tell us about your inspiration for creating your podcast, Topping the Curve.
I'm a pretty Type A person, so I like to make sure that I am as prepared as possible, especially if I'm embarking on a new, challenging venture for myself. I did a ton of research in the months leading up to law school, and none of those efforts led me to the information I needed.
I think particularly for underrepresented students, or people who don't have lawyers in their family, this information should be readily available. I wanted to use the podcast to help fill that gap. We're trying to open the pathways of access for the generations that come after us.
In addition to your weekly podcast, you currently serve as editor-in-chief of the American Criminal Law Review, you participate in Georgetown Law's Trial Advocacy Division of Barristers' Council and you're a RISE fellow. How do you avoid burnout?
Everything goes back to creating a schedule — figure out when you're going to study, when you're going to eat, when you're going to have free time. It's something I first heard about in RISE. A lot of students just jump right in and kind of wing it, which I don't recommend.
Law school is so rigorous and stressful, having that schedule will allow you to take a break and not feel guilty. And It helps you feel more in charge of your life.
What's your advice to help new students set themselves up for career success?
Network. It's something that students coming into law school don't really take advantage of as much as they should. Not only will you learn more about different practice areas, but you'll also be able to make connections who will then connect you with other people.
Just as an example, you may meet someone who works at the Department of Justice, but the person isn't in the division you're interested in. But you build a connection with that person, and then they find out there's an opening in the division that you do want. So they say, "Hey, I can pass along your resume for you, or I can let them know that I recommend you." And boom, you have your foot in the door.
When you're networking, no one is going to want to do you any favors if you're only looking out for yourself. The goal is to build lasting relationships. And that's why you need to connect with people on a personal level.
How can 1Ls develop these connections?
Go to the networking events that your school hosts, go to the events that your affinity group or extracurricular activity hosts, talk to guest lecturers and ask them for their business cards.
Outside of that, you can email people you don't yet know, but are curious about after doing a little research. Look for some point of connection to help you decide who to email. It can be frightening at first, but you just need to take the leap. Trust me, attorneys love to talk, and they're super eager to help.
Is there special advice you'd like to offer incoming 1Ls from underrepresented backgrounds?
I think we as minorities and underrepresented students really have to try not to fall into the trap of comparison. Coming into law school, and particularly a school such as Georgetown Law, you're surrounded by extremely smart, extremely accomplished people. It's easy to feel as though you don't belong or you are less than, and that is completely not the case.
Your first-gen status, your minority status, your cultural background is not a hindrance to your success — it's only something that you can use to push you further in law school and further into whatever your dream career is.
It's difficult at first to remember, but you made it here on your own merits. You belong here.