Tech for Justice: 2017 Iron Tech Lawyer, Privacy Practicum Competitions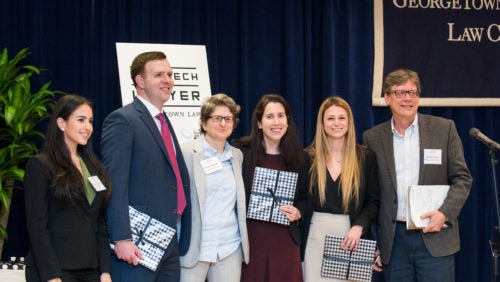 An app that helps D.C. parents and students advocate effectively when a student faces suspension and expulsion. Another app that helps pro bono lawyers and intake personnel in British Columbia to determine quickly and efficiently the types of issues that a potential client is facing. A third that helps LGBTQ New Yorkers victimized by violence get help. A fourth that alerts overworked and underpaid service workers that their employer may be violating the federal Service Contract Act.
In a week that focused on increasing access to justice — with a meeting of the Legal Services Corporation held at Georgetown Law the day before — these apps and others may one day make an important contribution. They were developed as part of Professor Tanina Rostain's experiential learning class, "Technology, Innovation, and Access to the Civil Justice System," which Rostain co-teaches with Adjunct Professors Mark O'Brien and Kevin Mulcahy.
During the spring 2017 semester, 23 students — in collaboration with service organizations ranging from the American Bar Association Commission on Law and Aging to the Children's Law Center of Massachusetts — built eight apps to assist underrepresented groups in learning their rights and getting help. The students presented those apps at the 8th Iron Tech Lawyer competition on April 26.
Katherine Alteneder of the SRLN, David Curle of Thomson Reuters and Patrice Lyons (L'69) of the Corporation for National Research Initiatives served as judges.
Best Iron Tech Lawyer
The award for "Best Iron Tech Lawyer" went to Marissa Moshell (L'17), Annick Banoun (L'17) and B.J. Altwater (L'18) for their Resource and Intake Application developed for the New York City Gay and Lesbian Anti-Violence Project. "This was the one that we felt was most ready to go, most ready to be put to use in the real world right away," Curle said.
The Excellence in Design Award went to Mohammad Akhavannik (L'18), David Schifrin (L'17) and Tim Tanner (L'17) for their British Columbia Justice Navigator, developed for Access Pro Bono Society of British Columbia. "[This] was both useful to the client and the intake staff," Curle said. "It made a lot of sense…and we thought it worked really well."
The Social Media Award went to Ethan Plail (L'18), Raffi Isanians (L'18) and Joseph Simpson (L'18) for their Job Defender app, developed for Good Jobs Nation, Inc.
Honorable Mentions went to Rachel Everett, Genieva Hylton and Brittney Sandler for the Helpline App to improve intake at the Children's Law Center of Massachusetts; Taylor Mulligan, Chasse Osborn and Myles DePass for an app developed for the American Bar Association Commission on Law and Aging to help users detect the signs and risks of elder abuse.
Alexandra Givens, executive director of the Institute for Technology Law & Policy, noted that Georgetown Law is "doubling down on the intersection of law and technology." A new class in the fall, she said, will focus on technology in the criminal justice system; other projects of the Institute will specifically focus on technology in the access to justice space as well as tech policy issues.
"If we are going to address our access to justice problems in the United States," Dean William M. Treanor said at the start of the competition, "technology is the key. Iron Tech is a great initiative, and we are so proud of it."
Privacy Practicum
On April 27, Georgetown Law and Massachusetts Institute of Technology students, working together as part of a Privacy Legislation in Practice: Law and Technology course, showcased draft legislation to address issues surrounding facial recognition technology, in-home listening devices, police geolocation and more.
Adjunct Professor Alvaro Bedoya, the founding executive director of Georgetown Law's Center on Privacy & Technology, teaches the class along with Georgetown Law Professor David Vladeck and MIT instructors Hal Abelson, Illaria Liccardi and Daniel J. Weitzner.
The competition was judged by Jay Edelson, founder & CEO of Edelson PC; Alex MacGillivray, former deputy chief technology officer at the White House Office of Science & Technology Policy and former general counsel at Twitter; Betsy Masiello, in Communications & Public Policy at Uber; Maneesha Mithal, director of the Federal Trade Commission's Bureau of Consumer Protection; and Michelle Richardson, deputy director of the Freedom, Security & Technology Project at the Center for Democracy & Technology. Among the winners:
Proposal Most Likely to Succeed in Congress or a State Legislature: The Geolocation Information Privacy Protection Act (GIPPA) Act – Sara Ainsworth (F'14, L'17), Speare Hodges (L'17), Sunoo Park (MIT), Mary DuBard (MIT/Wellesley).
Best Proposal Independent of Political Considerations: Best Practices and Guidelines for Fake News Mitigation – Lindsey Barrett (L'17), Shanna Holako (L'17), Yonadav G. Shavit (MIT), Benjamin Goh (MIT/Harvard).
Wildcard Award: The Always-On Device Data Protection Privacy Act of 2017 – Allison Bohm (L'17), Edward George (L'17), Bennett Cyphers (MIT), Juye Lu (MIT).