Teresa Cheng, Hong Kong's Secretary for Justice, Examines Dynamics of International Legal Norms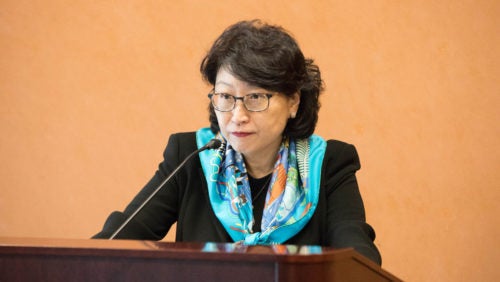 Students on campus on July 13 got a refresher course in international law when Teresa Cheng, Hong Kong's secretary for justice, came to Georgetown Law.
While international law as a discipline is European in origin — with Asian states, upon gaining independence, expected to respect what was already in place — Asia will play a significant role in influencing international law in the future, especially with respect to special economic zones, climate change and dispute resolution, Cheng said.
She noted that special economic zones (SEZs) — demarcated geographic areas contained within a country's national boundaries where the rules of business differ than those that prevail in the national territory — operate within World Trade Organization rules and have generally been a great success. "However, special economic zones are not immune from problems; they are likely to give rise to economic as well as international challenges[,]" she said.
Regarding the problem of climate change, the Paris Agreement of 2016 was a momentous event, Cheng said.
"Building on the United Nations Framework Convention on Climate Change, the Paris Agreement brings nations into a course to undertake ambitious efforts to combat climate change and adapt to its effects," she said. "The Paris Agreement's central aim is to strengthen the global response to the threat of climate change by keeping the global temperature rise…well below two degrees Celsius…and to pursue efforts to limit temperature increase even further…. In addition, the Paris Agreement aims to increase the ability of countries to deal with the impacts of climate change."
Despite the U.S. actions in withdrawing from the Paris Agreement, "China joined the European Union in reassuring that the country remains committed to fight against climate change and in participating in international efforts for a greener world," Cheng said.
And regarding the third topic of dispute resolution, law and technology, as well as mediation, will be especially prominent in the future.
"These are three areas in my view that will continue to take form and take shape and grow in importance," she said. "I suggest to you that Asia and Africa as well are going to have some input on the contribution to the development of international law and through these norms that are being set up through the practices. Clearly, in our quest for commonly shared and universal values that should form the basis of international law…in this world community, Asia has a role to play."
In addition to serving as secretary for justice, Cheng is the current chairman of the Financial Dispute Resolution Center and a counsel to working groups on mediation in Hong Kong. "She's qualified to talk about many topics," said Professor James V. Feinerman — Georgetown Law's James M. Morita Professor of Asian Legal Studies, the associate dean for Transnational Programs and the director of the Georgetown Center for Asian Law, which sponsored the event. Feinerman noted that Cheng, who is also a faculty member at Tsinghua University in China, was instrumental in creating Georgetown Law's joint degree program in international arbitration and dispute resolution with that university. The program allows students to earn an LL.M. from both schools.