The D.C. Affordable Law Firm Expands Services and Partnerships to "Meet the Moment"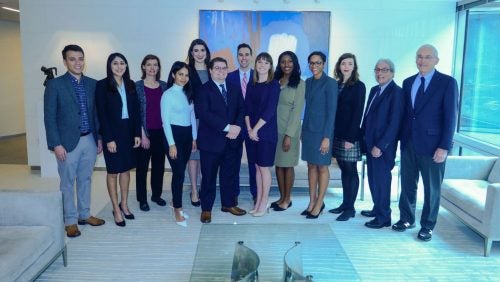 Caught in a contentious divorce and custody battle, without a lawyer by her side, Irina Orlov1 broke down in tears as she faced the court.
"It was miserable," she recalled. "I said to the judge, 'All I want is the kids, I don't want anything else.' I couldn't qualify for pro bono help and I couldn't afford a lawyer. I didn't know what to do."
The judge referred Orlov to the DC Affordable Law Firm (DCALF), Washington D.C.'s only nonprofit legal services provider for people living at 200 to 400 percent of the federal poverty level.
Founded in 2015 under a partnership between Georgetown Law, Arent Fox LLP and DLA Piper, DCALF provides access to justice for people of modest incomes, a population comprising roughly 19 percent of the city's residents. In many cases, they are juggling multiple jobs and teetering just above the poverty line – caught in an often-overlooked justice gap, both ineligible for free legal aid and unable to afford private counsel.
DCALF stepped in and took Orlov's case, which is complicated by questions related to property rights, alimony, child support, a civil protective order, and ongoing appeals.
For Melissa McClure (L'18), one of Orlov's DCALF lawyers, building trust and empowering her client was a priority.
"My focus was on putting her in the driver's seat," said McClure, who is now a DCALF senior associate. "I'm the resource to help her achieve her goals and figure out how that fits into the legal landscape."
Orlov, an immigrant who was working several part-time jobs and struggling with legal terminology, said she "would have fallen through the cracks" were it not for DCALF.
"I felt like I was my lawyer's only client," she said. "The emotional support was so important. To have someone say, 'Everything is going to be ok,' I needed that so much."
Filling a Justice Gap
Now, with the coronavirus pandemic upending the economy and pushing some of Washington D.C.'s most vulnerable families into poverty, DCALF is expanding both its staff and services to meet the needs of its clients, half of whom have fully or partially lost their income this year.
"COVID has been a reminder for us of the vulnerability of so many of our clients and their precarious footing, despite being such diligent, hard workers," said DCALF Executive Director Gabby Mulnick Majewski. "We've had to think creatively about how we can retool our services, find clearer ways to come up with payment schedules, and seek alternative grant funding to support necessary legal work."
The program is built on a unique model: it is staffed by recent graduates of Georgetown Law who, after completing a 12-week training program, offer clients a range of legal services focused on family law, immigration and probate matters. The graduates are supported by Georgetown Law fellowships. Since DCALF's inception, DLA Piper and Arent Fox have each provided an average of 1,200 pro bono hours a year in mentorship and guidance.
"For the past five years, DCALF has served as a model to inspire other law firms and law schools to launch their own low-bono firms," said Georgetown Law Dean William M. Treanor, a driving force behind the firm's founding. "It's exciting to watch the firm grow."
This month, three graduates from the University of the District of Columbia David A. Clarke School of Law will, for the first time, join the six incoming Georgetown fellows at DCALF. This represents a 30 percent increase in the firm's legal staffing, allowing DCALF to serve more clients.
"We welcome the new UDC grads," Treanor said. "Together with Georgetown alumni, these talented young lawyers will help families and communities who are really struggling right now, while gaining valuable, hands-on experience early in their careers."
DCALF is now also reaching low-income clients through the Family Law Assistance Network (FLAN), a new collaboration with the Legal Aid Society of the District of Columbia and the D.C. Bar Pro Bono Center. The network offers free legal advice or limited-scope representation in family law cases. Though it was originally intended to provide in-person services at D.C. Superior Court, the network pivoted to offer remote assistance due to COVID.
With its partners, DCALF is helping family law litigants navigate the court system, including drafting and filing emergency pleadings, and appearing in remote court hearings on behalf of pro se litigants. Since FLAN started serving clients in late March, it has fielded more than 350 requests for assistance, with DCALF serving more than 120 litigants as of mid-September.
"We've shifted our approach and expanded the population of clients we seek to serve," Majewski said. "We wanted to be able to meet the moment. We are fortunate that as an organization we can move with the tides when the situation demands it."
Charting a Public Interest Path
While DCALF is laser focused on meeting its clients' needs, it also sets participating fellows on a public interest path and fosters the development of the next generation of pro bono and low-bono attorneys. As part of its commitment to DCALF, Georgetown Law confers LL.M degrees upon all fellows at the completion of the program. The degrees will also be extended to the incoming UDC Law fellows.
For many fellows, the opportunity to be an active litigator and have their own cases while also being mentored by seasoned lawyers is like the legal equivalent of a medical residency.
"It felt like a way to expand my knowledge of immigration issues while continuing to work in a collaborative environment," said current fellow Clayton Davis (L'19). "Here, I've gotten an opportunity to work on special immigrant juvenile issues, naturalization cases, adjustment of status cases – the whole universe of immigration cases."
Working at DCALF has also fast-tracked his client counseling skills.
"There are situations where things get very antagonistic, emotions are running high," Davis said. "By the end of the fellowship you feel a lot more comfortable asserting yourself to preserve your client's goals."
As DCALF grows, so does its network of former fellows who are using their experiences as a springboard to public service careers.
Caroline Fehr (L'16) says her fellowship experience solidified her interest in helping clients navigate family law and domestic violence cases.
"I didn't realize how much I really valued the direct services legal work and how meaningful it can be to connect with someone individually rather than working on some big, abstract issue," said Fehr, who now works at the Legal Aid Society of the District of Columbia.
"You make wonderful connections with the clients," she added. "This work can be hard at times, but I think it's also what sustains me."
[1] The client's name has been changed to protect her privacy.