Trade, Taxes and Tech: Georgetown Law's IIEL on "Resolving Disputes in International Economic Law"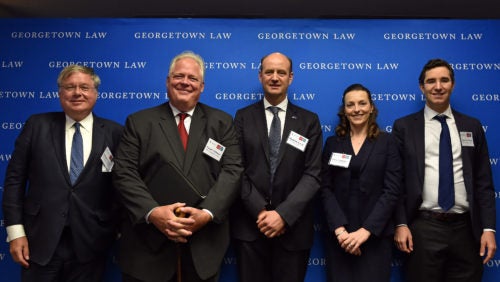 Trade, taxes and tech were the topics on the table for the G2 Conference on Resolving Disputes in International Economic Law, co-sponsored by Georgetown Law's Institute of International Economic Law (IIEL) and the Graduate Institute, Geneva on July 11.
And as IIEL Faculty Director Chris Brummer and the Graduate Institute's Joost Pauwelyn noted, the discussion could not have been more timely.
"[You can pick] up the Financial Times or Bloomberg on any given day of the week, and see just how relevant each of these panels are for international policy discussions," said Brummer, who also teaches international economic law and policy as a professor at Georgetown Law.
"I hope we can move beyond commiserating about what's happening…saying multilateralism is at risk…, said Pauwelyn, who also serves as the Murase Visiting Professor of Law at Georgetown when he's not in Geneva. "Is the system that we built for the last two decades, is it really working? This is a moment to reflect and change — let's not waste a good crisis."
IIEL Executive Director Grant Aldonas, the former U.S. Under Secretary of Commerce for International Trade, and Georgetown Law Professors Lilian Faulhaber and Itai Grinberg were among those discussing whether Europe's digital taxes and U.S. tax reforms are economically equivalent to subsidies and/or are compliant with World Trade Organization (WTO) law.
IIEL Distinguished Senior Fellow and Professor from Practice Jennifer Hillman led a panel looking at whether international economic law can accommodate populism. Hillman — a former member of the WTO's appellate body — also joined Ricardo Ramírez-Hernández, former chairman of the WTO appellate body, in a luncheon discussion analyzing that adjudicatory system at a critical time when some charge that the United States is choosing to walk away from its international obligations.
"One way to address your concerns regarding the role of trade is to have an even stronger dispute settlement system; I believe we are going the other way," Ramírez-Hernández said. "We need to have a signal that you are willing to engage…after building an institution for so many years, to let it die the way the appellate body may die — we cannot die of asphyxiation. That's not fair to any member…the problem is that you are not at the table."
A seat at the table
The day also featured a screening of the PBS documentary "China: The New Silk Road," which featured IIEL Faculty Director Chris Brummer. Brummer and Associate Dean James Feinerman participated in a panel discussion afterwards with other notable experts.
Brummer commented at the start of the day that the prestigious European Law Students Association Moot Court Competition on WTO Law, held in Geneva June 19-23, has just been renamed for the late Georgetown Law Professor and founding IIEL faculty director, John H. Jackson — widely considered the architect of international trade law. Jackson's family and representatives from Georgetown, where he taught international trade law, participated in the renaming ceremony at the close of this year's competition.
"John was interested in looking at international economic law as a discipline…it is multipronged and it is distinctively interdisciplinary," Brummer said. "What happens in international monetary affairs…and [what] we've been trying to think through, here at Georgetown and at other places, with our partners at the Graduate Institute and around the world, [is] how to introduce a more interdisciplinary, policy driven, and rigorous perspective on issues of international economic law."