Two Historic Gifts for Georgetown Law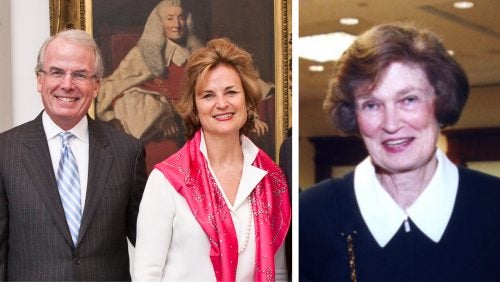 Georgetown University Law Center has received transformational gifts from two of its most generous and dedicated alumni.
One, totaling nearly $24 million from the estate of Agnes N. Williams (L'54), will endow a new set of faculty professorships. The other, a $10 million gift from Timothy O'Neill (L'77) and Linda O'Neill (N'77), will establish the Center for Transformational Health Law at the O'Neill Institute for National and Global Health Law at Georgetown University.
"Agnes Williams and Timothy and Linda O'Neill exemplify the best of the Georgetown Law community, with their dedication to giving back and to investing in our future," said Georgetown Law Dean William M. Treanor. "Agnes cared so deeply about our faculty and their scholarship, and her bequest will help us attract and retain world-class teaching talent for years to come. And as the COVID-19 pandemic has made all too clear, public health law and policy must be a priority for the entire world at this time. Tim and Linda's gift ensures that Georgetown Law will continue to lead the way on this topic."
Agnes Williams, a member of the first Georgetown Law class to include women, died March 4, 2020. The bequest from her estate, totaling nearly $24 million, caps off a lifetime of support for the Law Center. She was the lead donor on the Edward Bennett Williams Law Library, named in memory of her husband, himself a Georgetown Law alumnus as well (L'44, H'68), and in 2016 she funded a set of endowed professorships to support the research work of recently tenured faculty.
This bequest, the largest single gift in Georgetown Law's history, funds the Agnes Williams Sesquicentennial Professorships of Law, named in honor of both their benefactor and the 150th anniversary year in which they are established. The new professorship endowment will enhance Georgetown Law's ability to recruit and retain outstanding scholars and teachers and will bring the school's percentage of named faculty positions closer to that of peer institutions. The first two professorships have been awarded to Julie Rose O'Sullivan and Hillary Sale. A total of 20 Agnes Williams Sesquicentennial Professorships will be awarded.
Timothy and Linda O'Neill's latest gift of $10 million to the O'Neill Institute, in addition to their prior gifts, makes them the largest living donors to Georgetown Law. The O'Neill Institute for National and Global Health Law at Georgetown University was established in 2007 to respond to the need for innovative solutions to the most pressing national and international health concerns. The new gift will establish the Center for Transformational Health Law, which will focus on the changing legal and policy environment during and after the COVID-19 pandemic.
Mr. O'Neill, Senior Counselor in the Executive Office and member of the Management Committee at Goldman Sachs & Co., is the current Vice Chair of the Georgetown University Board of Directors. Mrs. O'Neill, a former pediatric nurse practitioner, was in the past a member of the Board of Regents at Georgetown University and chaired the Board of Visitors for the School of Nursing and Health Studies. They are the trustees of the Linda and Timothy O'Neill Foundation and have been generous supporters of numerous other organizations in addition to Georgetown.
"On behalf of Georgetown, I wish to express our deep appreciation for the generosity and leadership of Agnes Williams and Tim and Linda O'Neill—who have each enabled us to deepen the context for our faculty to pursue groundbreaking research and scholarship and contribute to advancing justice in our world," said Georgetown University President John J. DeGioia. "Agnes, a past member of our Board of Directors, Tim, our Vice Chair of the Board of Directors, and Linda, a former member of our Board of Regents, have all made invaluable contributions to our community. We are deeply grateful for their example of service, leadership, and their commitment to Georgetown."