Ultimate (Frisbee) Victory for Chance Cochran (L'21) and Christian Boxley (C'18)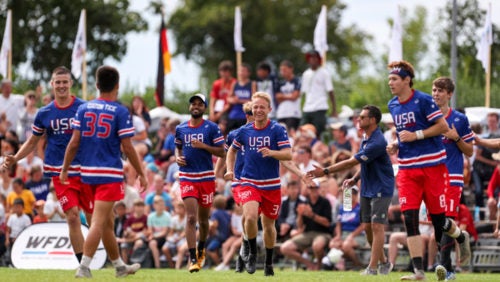 When Jackson "Chance" Cochran (L'21) met Christian Boxley (C'18) while playing for the Washington, D.C.,'s top men's Ultimate (Frisbee) team "Truck Stop," they expected to do great things. What they didn't know was that "great things" would extend internationally, winning gold at the men's World Under 24 (U24) Ultimate Championships in Heidelburg, Germany, in July 2019 ― both as members of the United States U24 Men's Ultimate National Team ― and providing a strong Georgetown connection in the process.
The reward was the culmination of years of work and sacrifice for both players. Cochran, who is a Georgetown Law 2L student and son of Professor and Assistant Dean Vicki Arroyo (L'94), played locally at Yorktown High School before joining the squad at Tulane University. Cochran then came home to Washington, D.C., to continue his education, and his playing. Boxley is a Georgetown graduate who spent four years playing for the university's team.
Winning the U24 Championship made the work and sacrifice worthwhile, Cochran said.
"When I was 17, I was invited to try out for the U.S. Under 20 Men's National Team, but tore my hamstring and couldn't attend," said Cochran, who is especially known for his tenacious defense. "Then when I was playing at Tulane, I was invited again, but had less name recognition than players from schools with more prominent programs," such as the University of North Carolina or Carleton College.
When he applied the third time, he was a favorite to make the team. He did. And what timing.
"That was obviously a huge moment," Cochran said, "a once-in-a-lifetime kind of moment."
"When I made [the men's national team] I called my mom and dad, then Christian, who I'd gotten really close to while playing for ["Truck Stop," the D.C. team]," he said.
Boxley, a Catonsville, Md., native, works as a research assistant at the National Center for Human Factors in Healthcare, in Washington's Cleveland Park area. "Chance and I met after I played for three years for the Baltimore Medicine Men, a top regional squad, then met at 'Truck Stop,' which is a perennial national contender."
Boxley, an offensive cutter, discussed the trial process for National Team. "There are 500 applicants, about 200 had tryouts and 76 made one of the three divisions of the team."
With the team assembled for a relatively brief period before matches began, practice sessions were condensed and intense. "After practice weekend, our ensemble of 90 people flew to Külsheim, Germany (near Frankfurt) to prepare. We had one week to practice and bond," said Boxley. "It was like summer camp."
Then it was on to Heidelberg for the tournament, where the U.S was among 50 teams competing for gold. On the way up, the men's team took down a tough Australia team in the quarterfinals 15-3.
"That's when we knew we were on to something," said Cochran. The U.S. team defeated Canada in the finals, finishing the tournament with an 11-0 record.
The local duo felt like it was not only a great moment for the U.S. and their team, but the sport.
"It's definitely growing," said Boxley. "Ten years ago, if you said 'Ultimate,' many people wouldn't know what sport you were referring to. Now most people do. And I never thought that our involvement would turn into such an adventure."
"It was really exciting. It all happened so fast that, after that next day of elation, we went out with both Colombia teams… Then we came home the day after," he said, "and we were suddenly spread out around the country. It was pretty much back to work with our club teams."
Like Boxley, Cochran plans to continue playing Ultimate, "as time allows with my studies," he said. "But I'm looking ahead."