Washington, D.C., Alumni Luncheon: Alexandra Givens of the Institute for Technology Law & Policy Talks Tech with John Delaney (L'88)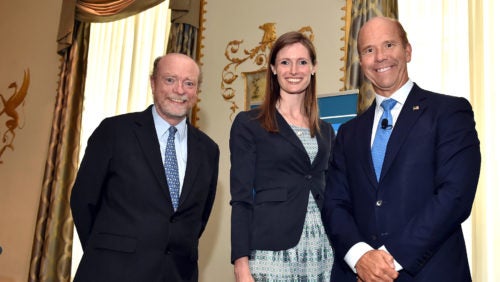 At Georgetown Law's Washington, D.C., Alumni Luncheon on June 11, Alexandra Givens of the Institute for Technology Law & Policy hosted a conversation with John K. Delaney (L'88) on how technology is transforming society.
Delaney  — a 1988 Georgetown Law graduate, business leader, former Representative in the U.S. Congress, and now 2020 presidential hopeful — founded a bipartisan caucus on artificial intelligence (AI) in 2017 while serving in the House. Before the caucus was created, he noted, not enough people were talking about tech policy on the Hill.
"Technological innovation is reshaping everything: our autonomy, the future of work, our national security risks, how we interact with each other…the whole shape of our society…" said Delaney, who represented Maryland's Sixth Congressional District as a Democrat from 2013 to January 2019. "I thought it was important to create a space on the Hill where Members of Congress could convene and learn about [these things]."
Givens was well qualified to lead the conversation on tech. Before coming to Georgetown Law as the founding executive director of the Institute for Technology Law & Policy, she served as chief counsel for IP and Antitrust on the Senate Committee on the Judiciary, advising its then-Chairman/Ranking Member, Senator Patrick Leahy (D-Vt.)(L'64). She developed legislative strategy on matters including patent reform, federal trade secrets legislation, net neutrality, First Amendment issues surrounding online speech, access to medicines, and oversight of mergers and antitrust policy. At the June 11 luncheon, Givens and Delaney discussed innovation, privacy, the role of regulation and more.
Talking Tech
Innovation, Delaney said, has created more jobs than it has displaced — the problem is that it does not always create jobs for those who have had their jobs displaced. He noted that a collaborative certification program between Hagerstown Community College in Western Maryland and Johns Hopkins University led to a high percentage of program graduates getting jobs. "We have to look at the infrastructure we have in our country on education."
The conversation covered the lack of federal privacy legislation, the rise of altered videos, and the fact that political ads on social media do not require the same disclosures as ads on TV and radio. "The debate can't be whether Twitter and Facebook did the right thing…we actually have to pass laws," he said.
He also called for a national artificial intelligence strategy, noting tough questions about government expertise, responsible development and the ethical questions embedded in new technologies. If a driverless car is coded to swerve onto a sidewalk rather than hitting another car, what happens when a pedestrian is struck? "[The issue is not] whether we are going to have these cars, but how we are going to wrestle with those kinds of decisions."
Innovations
Attendees at the luncheon included April McClain-Delaney (L'89), who was recently honored with one of Georgetown University's John Carroll Awards; David Wochner (F'96, L'02), chair of the Law Alumni Board; Georgetown University's Rosemary Kilkenny (L'87); Dennis Meyer (L'60, LL.M.'62) of Georgetown Law's Board of Visitors; and longtime Professor Emeritus Sherman Cohn (F'54, L'57, LL.M.'60), "a young teacher of great promise," Georgetown Law Dean William M. Treanor joked.
Treanor told attendees of developments at Georgetown Law, particularly in technology law and policy. This fall, the Law Center will have 19 full-time faculty in its tech policy cluster, 3 tech clinics, and classes on topics ranging from coding for lawyers, to the governance of artificial intelligence, to digital platforms and policy. A newly purchased building at 500 First Street will allow Georgetown Law's centers and institutes to collaborate with Georgetown University on public policy — near where law and policy is made.
Regarding diversity and access to education, Treanor noted that 59 percent of the 2018-2019 entering class was women; 28 percent persons of color; and 11 percent the first in their families to go to college. Georgetown Law's international LL.M. students, meanwhile, hail from more than 70 countries. "We are about opening doors," said the dean, who urged alumni to connect with younger Hoya Lawyers to help them in their careers, and to continue supporting the school. And Treanor reminded everyone of Georgetown Law's upcoming 150th anniversary celebration in 2020. "We could not be prouder of what we've achieved during our history."