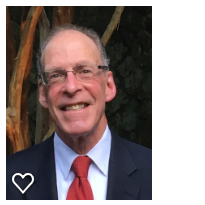 Lawrence Center is a leadership coach certified as a Professional Certified Coach (PCC) by the International Coach Federation (ICF). His coaching focuses on the legal profession – law firms of all sizes, law schools, corporate legal departments and government agencies. He strives to assist managers and leaders reach their full leadership potential and to assist leaders in identifying their own blind spots and skill or attitude gaps so that they may be of greater value to their organizations, their colleagues and direct reports.
Larry is a 1974 graduate of the Law Center, served for many years as a member of the Law Alumni Board, and is a 2014 recipient of the Paul R. Dean Award. After a career practicing law, Larry entered the legal education field, first working for Antioch School of Law in Washington, DC and then for the Institute for Paralegal Training in Philadelphia. In 1985, Larry returned to the Law Center to run the Department of Continuing Legal Education (CLE). During his 32 years in that role, Larry, with the support of a wonderful team, helped build Georgetown CLE into one of the most respected CLE programs in the country. A former president of the Association of Continuing Legal Education (ACLEA) and Chair of the Section on CLE for the Association of American Law Schools (AALS), Larry was able to exert leadership influence throughout his profession. He is also a licensed facilitator for Franklin Covey and has been facilitating the program, "The Seven Habits of Highly Effective People," for 25 years.
During his years overseeing Georgetown CLE, Larry had the good fortune to work with senior partners from the world's largest law firms, general counsels from Fortune 500 companies, federal and state agency heads, members of Congress, federal and state court judges and Supreme Court justices. He was able to gather tremendous information about leadership in the legal space and became a mentor to many colleagues at the Law Center.
After Larry graduated from the Georgetown University Leadership Coaching Certificate Program and gained accreditation from the ICF, Law Center Dean Bill Treanor asked him to offer coaching to Law Center senior staff and deans. For two years prior to his retirement, Larry coached 16 people at the Law Center. When he retired from CLE, Larry opened Center Leadership Coaching, LLC and now coaches in person and by Zoom and speaks on leadership at conferences across the country.