For Alumni
Georgetown Law offers individualized and comprehensive support to all Georgetown Law graduates at all stages in their careers.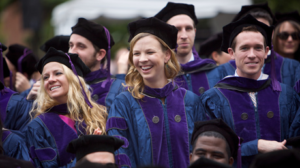 The Office of Career Strategy (OCS), Office of Public Interest and Community Service (OPICS) and Office of Graduate Careers (OGC) work to provide Georgetown Law alumni with lifelong career development support and opportunities. Services for alumni include counseling appointments (including mock interviews), resume and cover letter review and internal and external job search resources.
Alumni Advising
Georgetown University Law Center graduates who are thinking about a job or career change are encouraged to make an appointment to talk to a career advisor.
J.D. Alumni
We invite all JD alumni who are seeking positions or are planning a career change to make an appointment with one of our alumni advisors. JD graduates who are seeking in the private sector are invited to schedule an appointment with Robyn Rucker, Associate Director for Recent Graduates, and with an advisor in OPICS if you are seeking in the public sector. The Entry into Practice Program is a resource for recent graduates who are seeking full-time employment.  For eligibility requirements and program details, please click here.  Other opportunities for new alumni may include partner fellowships with public interest and government employers.
Advisors will work with you to define your goals, develop your job search strategy, research potential employers, review your application materials, and hone your networking and interview skills.
LL.M. Alumni
Recent LL.M. Law Center alumni who have graduated in the past three years are invited to schedule an appointment with a career advisor. A member of the Office of Graduate Careers will meet with you on Zoom, in our offices in Hotung Suite 5000, or over the phone to discuss your career-related questions and concerns. You can also use our resume and cover letter review service to receive feedback on your resume, cover letter and/or other business correspondence.
LL.M. Law Center alumni who have graduated over three years ago should review the LL.M. Alumni Resources and Alumni Coaching Services (listed below).
Georgetown Law Job Postings and Web Resources
Job postings for Georgetown Law J.D. and LL.M. students and alumni are available through Symplicity. The postings include many listings directed toward experienced attorneys, in both the public and private sectors. We also have a wealth of information on our website to help guide you through the job search process and to provide you with information on many of the career paths available to you.
Restricted Law Center Resources:
If you are a graduate of the Law Center, you can obtain access to restricted Law Center web resources by emailing lawhelp@georgetown.edu to receive your username (NetID) and password.
Symplicity:
If you are a graduate of the Law Center, you can obtain access to Symplicity by 1.) emailing lawhelp@georgetown.edu for your NetID and password, if you do not already have this information, and then 2.) emailing lawcareerstrategy@georgetown.edu your NetID in order to create or reactive your Symplicity account.
IMPORTANT: All students and alumni are now required to use DUO as another level of security for accessing restricted resources.  You will need to download the DUO app to your mobile device.  DUO is required upon logging into any Georgetown sites and Symplicity.
J.D. Alumni Resources (Unrestricted)
LL.M. Alumni Resources (Password required)
Sample Job Application Materials
Career Manual and Handouts
Graduate Connections
LL.M. Careers on LinkedIn
Reciprocity for J.D. Graduates
NALP member law schools support a policy of providing job search assistance to students and graduates of other schools through reciprocity. This allows law schools to provide reasonable access to their career resources for law students and graduates from other law schools that agree to provide similar services. To learn more about our process and to request access please review the Georgetown Law Reciprocity Policy document.
Alumni Coaching Services
OCS has negotiated discounted rates for all Georgetown alumni interested in one-on-one coaching with these ICF-certified coaches.
Sandra Buteau
Sandra Buteau coaches on the following areas: Building and Strengthening Executive Presence;  Building Leadership Confidence;  Career Management; Career Transitions;  Career Changers; Communicate Effectively (including giving and receiving feedback, having crucial and difficult conversations); Confidence and Executive Presence; Cultural Competence;  C-Suite Level Executives; Leadership Coaching of Executives at all levels; Mindfulness-Based Strategic Awareness; and Team Building.
Sandra's contact information: spbuteau@gmail.com

Click here to learn more about Sandra
Lawrence Center
Larry Center coaches on the following areas: Maximizing career advancement; Understanding the difference between management and leadership; Improving time management and prioritization; Giving and receiving feedback; Cultivating paradigm shifts; Enhancing self-awareness; Identifying our blind spots; Enhancing oral and written communication skills; Eliminating "win-lose" and "lose-win" attitudes; Learning how to delegate effectively; Crafting effective goal-setting strategies; and Achieving stronger work-life balance.
Larry's contact information: Larry@Centerleadershipcoaching.com
Click here to learn more about Larry
Volunteer to Help Georgetown Law Students
Alumni volunteers partner with OCS, OPICS and Office of Graduate Careers in a variety of capacities, such as participating in networking events or informational programs, or by connecting with our students to provide advice regarding different career paths and legal specialties.
If you are interested in volunteering in any other capacity, please send an e-mail to lawcareerstrategy@georgetown.edu or opics@georgetown.edu (J.D. alumni) or gradprofdevp@georgetown.edu (LL.M. alumni), and please include a short description of how you are willing to help.
Local and Specialized Bar Associations
Are you a member of a local or specialized bar association in the Washington, D.C. metropolitan area? The Office of Career Strategy and Office of Graduate Careers are looking to expand its relationships with bar associations in the DC area, and would welcome your assistance. If you are active with a bar or have contacts you are willing to introduce to Georgetown Law, please contact Amy Jones Mattock (J.D. alumni) or gradprofdevp@georgetown.edu (LL.M. alumni).