Emily N. Smith
Emily Nanette Smith is the Assistant Dean to the Vice Dean at Georgetown University Law Center. Emily joined Georgetown Law in 2013.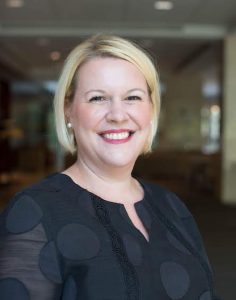 Previously, Emily has held leadership positions at Georgetown Law as Director of Faculty Affairs and Academic Events, Director of Strategic Initiatives and Board Liaison, and Associate Director of Law Alumni Affairs. In addition to her career as a higher education administrator, she was a senior associate at Susan O'Neill & Associates, a special events and fundraising firm, and was an associate in the Energy & Derivatives Markets practice group at the Washington, D.C. office of McDermott Will & Emery, where she later served as the legal recruiting manager.
Emily earned her B.A. with honors from Indiana University Bloomington and her J.D. from Duke University Law School. She lives in Bethesda, MD, with her son, two cats, and one dog.