"There is no other law clinic in the nation doing what we're doing. Our students learn they can really make a difference."
– Professor Susan Deller Ross, Founder and Director of the IWHR Clinic
In Students' Own Words
We are proud to feature the achievements and experiences of our Student Advocates and to hear of the many ways that the IWHR Clinic has inspired these individuals to continue to pursue women's and human rights law and advocacy.
"My experience with the International Women's Human Rights Clinic uniquely prepared me for my current work as a human rights lawyer. Building a strategic litigation case challenging laws permitting child marriage in Botswana gave me the opportunity to practice and hone the legal skills I use every day, including legal research and writing, developing creative arguments, identifying potential clients, and building strong relationships with international partners. I owe so much of the lawyer I am today to the mentorship and experiences I gained through this Clinic."

– Amanda Strayer, a fall semester Student Advocate who prepared a case to be filed in the Botswana High Court

"The IWHR Clinic proved to be my most invaluable experience of law school, both personally and professionally. It cemented my goals in pursuing a career path in international human rights law, and in a belief that change—however seemingly slow-moving or small in this vocation—is possible and worthwhile. The combination of legal and policy components to our Clinic project was vital for my start in international human rights advocacy, wherein I use the skills cultivated during that semester every day to be the best possible defender for the individuals I serve. Much of my work in impact litigation entails partnering with individuals and entities abroad, and the Clinic equipped me in practical and tangible terms—through fact-finding work with on-the-ground partners and drafting legislation, for instance—with the necessary interpersonal, research, and writing skills for client interaction and cross-cultural work. While international human rights can be a taxing field, the Clinic gave me the discipline with which to navigate it and was the perfect segue to my current work."

– Michelle Gulino, a spring semester Student Advocate who co-wrote a published human rights report on sexual abuse against schoolgirls in Kenya and proposed legislation

"The International Women's Human Rights Clinic was one of the most transformative experiences of my time at Georgetown Law. Not only did I gain substantive knowledge of international women's human rights law, but I honed my legal research, writing, and professional skills. The practical tools and advocacy skills I gained translated seamlessly into my current career as a litigator. Additionally, the Clinic affirmed my belief that international women's human rights work is essential, and I continue to use the substantive knowledge I gained in my pro bono practice."

– Mason Hubbard, a fall semester Student Advocate who prepared a winning case before the U.N. CEDAW Committee to strike down discriminatory laws, customs and practices relating to widow inheritance in Tanzania

"The Clinic was amazing on so many levels. Not only as a law school class did I learn more in this past semester than I ever would have anticipated, but, and more importantly, it was a great feeling to actually be able to use the law in order to improve the lives of others. It was wonderful that at the end of the semester instead of having a grade on an exam, we have produced an end product that will directly benefit the lives of women in South Africa."

– Maeve K. Townsend, a fall semester Student Advocate who prepared a constitutional challenge against the practice of polygyny in South Africa

"[Our fact-finding trip to Uganda about FGM] allowed us to understand how much the issue involves members of the family [and] what political context this recommendation is going to go through…. I learned everything from actual tangible legal skills to analytical skills to skills that apply to discussions about culture and tradition that are so relevant to this historical moment in which we're living – when politics, and women's bodies, and the concept of culture interact."

– Adriana Kertzer, a spring semester Student Advocate who drafted a human rights report and legislation to combat female genital mutilation in Uganda, which spurred the enactment of the Prohibition of Female Genital Mutilation Act, 2010

"The opportunity to participate in the IWHR Clinic was one of the main reasons I chose to come to Georgetown, and it lived up to all my expectations…. My work in the Clinic trained me in many of the investigatory and advocacy skills necessary in crafting a human rights campaign, and it solidified my techniques in making arguments that are not just morally forceful, but also legally compelling."

– Eric Tars, a spring semester Student Advocate who conducted fact-finding interviews in Ghana about "Queenmothers" (traditional women leaders), who now have been accepted as equal participants with equal pay in the Regional and National Houses of Chiefs in Ghana

"I learned more about being a lawyer in one semester of the IWHR Clinic than I have in the rest of law school combined."

– Alexandros Papanikolaou, a fall semester Student Advocate who successfully briefed an amicus in support of an appeal to the Nigerian Supreme Court to overturn a death sentence for a woman convicted of adultery under Muslim law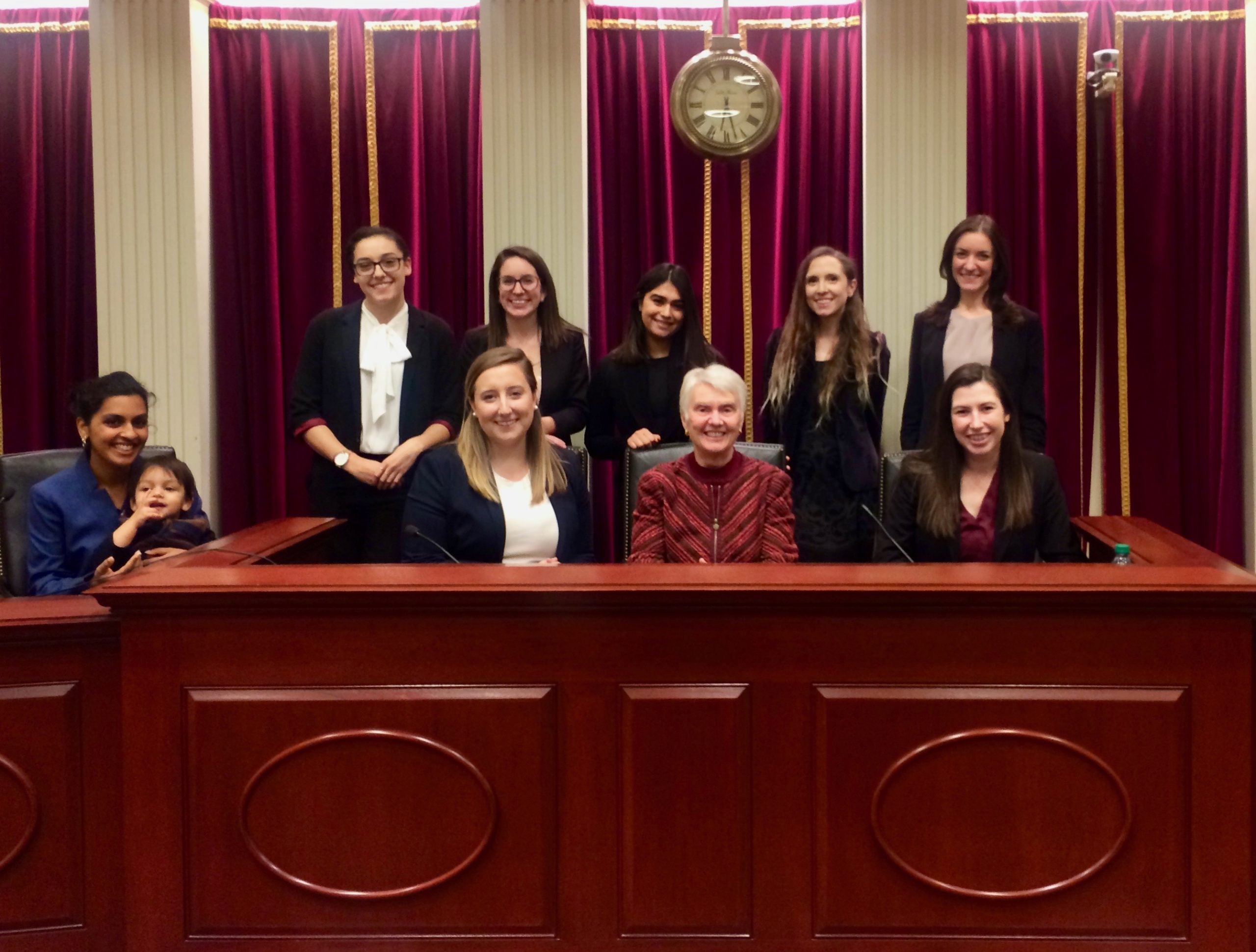 Fall semester Student Advocates Karuna Srivastav, Kayla Svihovec, Clara Mora, Neilab Rahimzada, Alicia Ceccanese, Amanda Strayer, Hannah Kaufman, and Makenna Osborn with Professor Ross in the Supreme Court Institute Moot Courtroom after wrapping up their final oral arguments.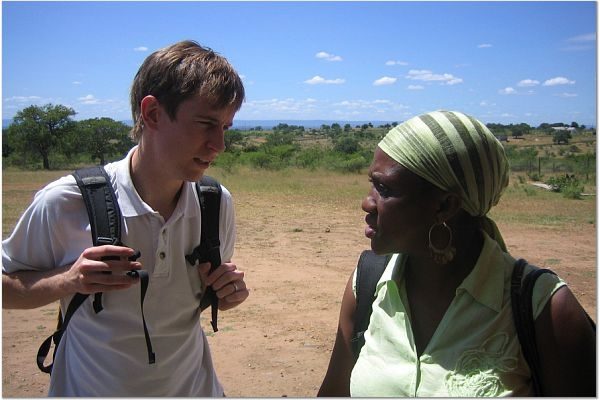 Student Advocate Nicolas Mitchell with local attorney supervisor, Sibonelo Mdluli, of Women and Law in Southern Africa – Swaziland (now, Eswatini), preparing to interview participants at a rural community gathering. His team was exploring the laws and practices that denied women access to communal land and private property.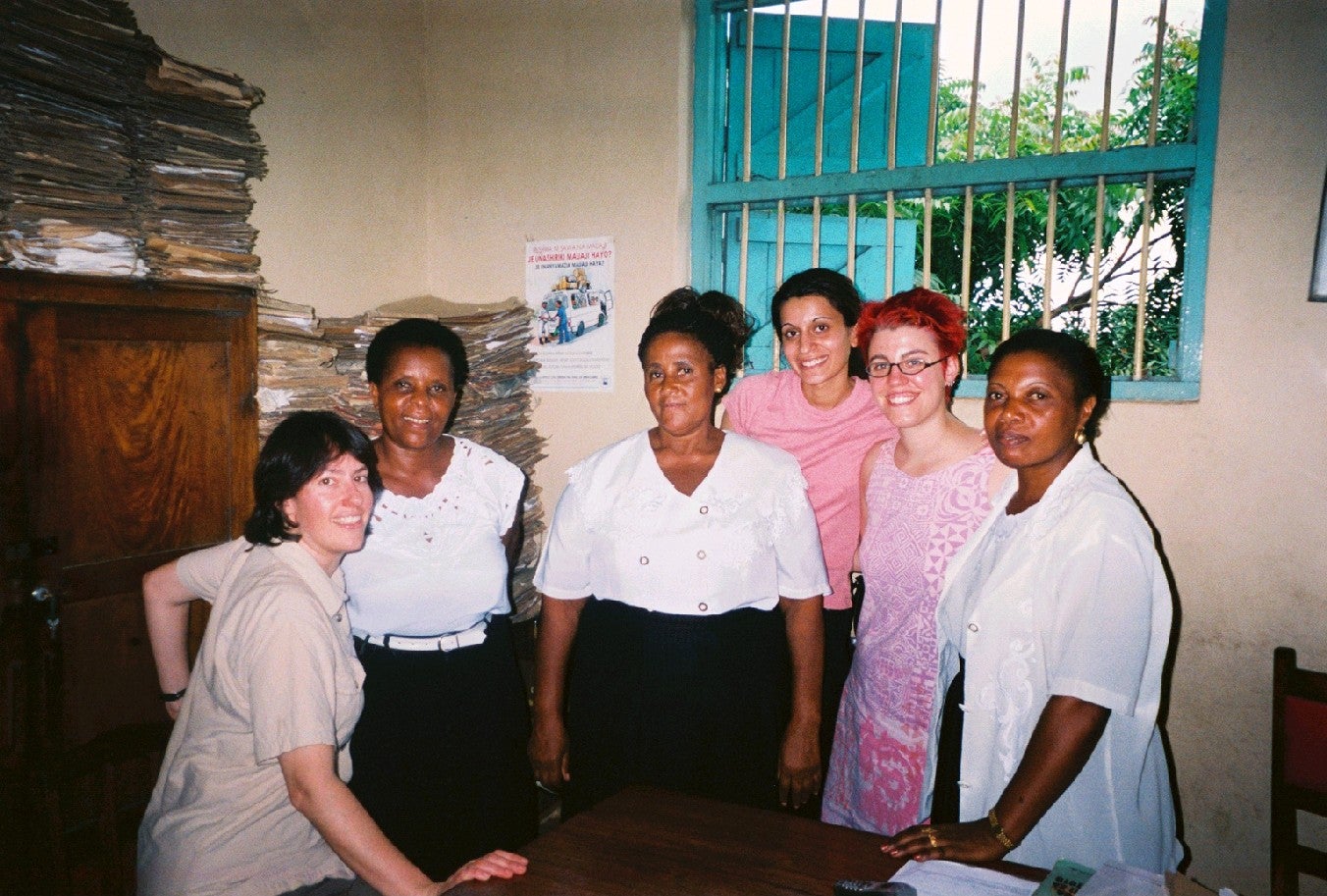 Student Advocates Kalsoom Malik and Vanessa Brocato worked on a human rights report and draft legislation to combat domestic violence in Tanzania: "Nimechoka Kupigwa" (I'm Tired of Being Beaten). Here, they're shown working at the Women's Legal Aid Centre in Dar es Salaam for a summer internship after their Clinic semester.