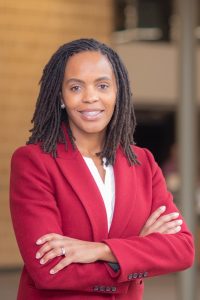 Anne Fleming Research Professor; Professor of Law; Associate Dean for Clinics and Experiential Learning
Alicia Plerhoples
A.B., Harvard; M.A., Princeton; J.D., Yale
Areas of Expertise:
Connect With Alicia Plerhoples
Alicia Plerhoples is a Professor of Law and the Director of the Social Enterprise & Nonprofit Law Clinic. Professor Plerhoples is a leading scholar in social enterprise law, nonprofit governance, and clinical legal education. Professor Plerhoples joined the faculty at Georgetown University Law Center in 2012, where she is director of the Social Enterprise & Nonprofit Law Clinic. Professor Plerhoples is active in the social enterprise legal sector, advising clients and organizations on governance arrangements and organizational structures that facilitate the work of social entrepreneurs. In 2017, Professor Plerhoples received the American Bar Association's Outstanding Nonprofit Lawyer of the Year (Academic) Award. She serves on the Legal Advisory Group of Echoing Green, a global nonprofit which identifies, incubates, and funds social entrepreneurs. Examples of Professor Plerhoples' recent research articles include integrating social enterprise into poor communities, pursuit of charity through public benefit corporations, and how to apply traditional corporate law principles to new social enterprise legislation. Her publications have appeared in the Lewis & Clark Law Review, Washington University Journal of Law and Policy, and the International Journal of Clinical Legal Education, among others. Professor Plerhoples previously was the Orrick, Herrington & Sutcliffe Clinical Teaching Fellow at Stanford Law School and a Visiting Assistant Professor at University of California Hastings College of the Law. Prior to entering academia, she practiced with the law firms of DLA Piper in New York City and Cooley in Silicon Valley. Professor Plerhoples graduated from Yale Law School in 2005 and holds a master's degree in Public Administration from Princeton University's Woodrow Wilson School of International and Public Policy. She completed her A.B., cum laude, from Harvard College in 2001.
Contributions to Law Reviews and Other Scholarly Journals
Book Chapters & Collected Works
Alicia E. Plerhoples,
Social Enterprises and Benefit Corporations in the United States
,
in
The International Handbook of Social Enterprise Law: Benefit Corporations and Other Purpose-Driven Companies
903-919 (Henry Peter, Carlos Vargas Vasserot & Jaime Alcalde Silva eds., Cham, Switz.: Springer 2023).
[
Gtown Law
] [
BOOK
] [
SSRN
]
Alicia E. Plerhoples,
Commentary on

Merriam v. Demoulas Super Mkts., 985 N.E.2d 388 (Mass. 2013)
,
in
Feminist Judgments: Corporate Law Rewritten
120-127 (Anne M. Choike, Usha R. Rodrigues & Kelli Alces Williams eds., Cambridge, U.K.: Cambridge University Press 2023).
Alicia E. Plerhoples,
The Promise of Social Enterprise for Low-Income Communities, in
The Cambridge Handbook of Social Enterprise Law
142-153 (Benjamin Means & Joseph W. Yockey eds., New York: Cambridge University Press 2018).
[
BOOK
]