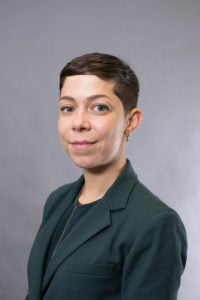 Associate Professor of Law
Amanda Levendowski
B.A., New York University; J.D., New York University
Areas of Expertise:
Connect With Amanda Levendowski
Amanda Levendowski is an Associate Professor of Law and the founding Director of the Intellectual Property and Information Policy (iPIP) Clinic. Her clinical projects and research focus on developing practical approaches to cutting-edge legal problems. Her recent scholarship examines how existing intellectual property law can be used creatively to address challenging social issues that intersect with privacy and technology, such as nonconsensual pornography, biased artificial intelligence, secret surveillance technology, and invasive face recognition. She is currently a Gender+ Justice Fellow at Georgetown.
Prior to joining Georgetown, Levendowski co-taught the Technology Law and Policy Clinic at NYU Law, where she was also a research fellow at the Information Law Institute. She previously practiced with Kirkland & Ellis and Cooley. She received her JD from NYU Law, where she received the Walter J. Derenberg Prize for copyright law, and her BA from NYU, where she developed a concentration in Publishing, Copyright & Technology.
Forthcoming Works - Journal Articles & Working Papers
Amanda Levendowski,
Trademarks as Surveillance Transparency
,
Berkeley Tech L.J.
(forthcoming).
[
SSRN
]
Contributions to Law Reviews and Other Scholarly Journals