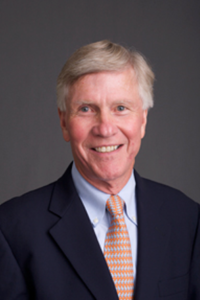 St. Thomas More Professor of Law and Legal History
James C. Oldham
B.S., Duke; L.L.B., Stanford; M.S.B.A., University of Denver
Areas of Expertise:
Phone
Assistant
Melanie Hudgens
Office
McDonough Hall 594
In addition to his teaching duties at the Law Center, Professor Oldham spends time in London doing manuscript research in English legal history. His major work is The Mansfield Manuscripts and the Growth of English Law in the Eighteenth Century, two volumes, published by the University of North Carolina Press for the American Society for Legal History. An updated one-volume abridgement of this work was published by UNC Press in 2004. In 2006, another book by Professor Oldham, Trial by Jury: The Seventh Amendment and Anglo-American Special Juries, was published by New York University Press. Professor Oldham collects books from and about early modern England and teaches seminars on English legal history and the history of the jury. He also teaches Contracts, Labor Law, and Labor Arbitration. He specialized in labor law during his practice after law school with the Denver firm of Sherman and Howard. Since coming to Georgetown, as time permits, he serves as a labor arbitrator. He is currently the Neutral Discipline Arbitrator for the National Hockey League and the NHL Players Association, a salary arbitrator for Major League Baseball and the MLB Players Association, and Appeals Panel member for the NFL & NFLPA. He has also served as the chair of the Foreign Service Grievance Board at the State Department and has performed extensive arbitration work in the steel and aluminum industries. For almost thirty years he has been a member of the National Academy of Arbitrators, and he served as President in 2013-2014. Professor Oldham has published numerous articles on legal history and on labor and employment law.
Contributions to Law Reviews and Other Scholarly Journals
U.S. Supreme Court Briefs
Brief of Amici Curiae Scholars of Habeas Corpus Law Supporting Petitioners, Guerrero-Lasprilla v. Barr, Nos. 18-776, 18-1015 (U.S. Sept. 5, 2019).
[
Gtown Law
]
Book Chapters & Collected Works
James Oldham,
The Legal Profession, in
A Cultural History of Law in the Age of Enlightenment
145-159 (Rebecca Probert & John Snape eds., London: Bloomsbury Publishing 2019).
James Oldham,
Some Effects of War on the Law in Late Eighteenth- and Early Nineteenth-Century England, in
Challenges to Authority and the Recognition of Rights: From Magna Carta to Modernity
142-175 (Catharine MacMillan & Charlotte Smith eds., New York: Cambridge University Press 2018).
[
BOOK
]