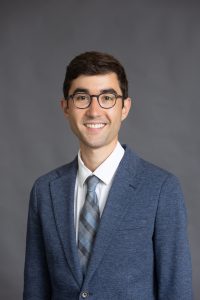 Associate Professor of Law
Kevin Tobia
B.A., Rutgers; B.Phil., Oxford; J.D., Yale; Ph.D., Yale
Areas of Expertise:
Connect With Kevin Tobia
Assistant
Victoire Saperstein
Office
McDonough Hall 416
Office Hours
https://calendly.com/kevin-tobia
Professor Tobia's research centers on legal theory, legislation, torts, LGBTQ law, and legal education. At Georgetown, Professor Tobia teaches Torts, the Legal Justice Seminar, Legal Philosophy, and Legal Interpretation.Prof.
Tobia received a B.A., summa cum laude, in Philosophy, Mathematics, and Cognitive Science from Rutgers University; a B.Phil. (Philosophy M.A.) with distinction from Oxford as an Ertegun Scholar in the Humanities; and a J.D. and Ph.D. with distinction from Yale, as an Articles Editor of the Yale Law Journal and Editor-in-Chief of the Yale Journal of Law & the Humanities, Coker Teaching Fellow in Torts, and Prize Teaching Fellow in Philosophy. Professor Tobia's scholarship has been awarded the Yale Law School Felix S. Cohen prize for legal philosophy and the AALS Section on Jurisprudence "Future Promise Award" for scholarship in legal philosophy, and it has appeared or is forthcoming in the Harvard Law Review, Yale Law Journal, Columbia Law Review, and University of Chicago Law Review, and peer-reviewed journals including Analysis, Cognitive Science, the Journal of Nuclear Medicine, and Mind & Language.
Featured Scholarship
Kevin P. Tobia, The Cambridge Handbook of Experimental Jurisprudence
(Cambridge University Press forthcoming).
Kevin P. Tobia, Brian Slocum & Victoria Nourse,
Ordinary Meaning and Ordinary People
,
U. Pa. L. Rev.
(forthcoming).
[
SSRN
]
Kevin P. Tobia,
Experimental Jurisprudence
, 89
U. Chi. L. Rev.
(forthcoming).
[
SSRN
]
Kevin P. Tobia, Brian Slocum & Victoria Nourse,
Progressive Textualism
, 110
Geo. L.J.
(forthcoming).
Kevin P. Tobia,
Empirical Methods and Legal Interpretation
, 19
Ann. Rev. L. & Soc. Sci.
(forthcoming).