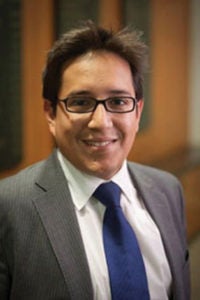 Visiting Professor of Law; Program Director of the Healthy Families Initiative, O'Neill Institute for National and Global Health Law
Oscar Cabrera
Abogado (J.D. equivalent), Universidad Católica Andrés Bello, Caracas, Venezuela; LL.M., University of Toronto
Areas of Expertise:
Connect With Oscar Cabrera
Oscar A. Cabrera, Abogado (JD equivalent), LL.M., is the Director of the O'Neill Institute for National and Global Health Law and an Adjunct Professor of Law at Georgetown University Law Center. Previously, Professor Cabrera served as the Deputy Director of the O'Neill Institute from 2009-2011. He is a foreign-trained attorney who earned his law degree in his home country of Venezuela, and his Master of Laws (LL.M.), with concentration in Health Law and Policy, at the University of Toronto. Before starting his Masters Degree program, Professor Cabrera worked as an Associate at a Venezuelan law firm (d'Empaire Reyna Bermúdez).
Professor Cabrera was awarded a Canadian Institutes of Health Research (CIHR) Health Law and Policy Fellowship for his Masters program. After earning his LL.M., he worked as a Research Associate with Professor Colleen Flood, at the University of Toronto, Faculty of Law and the Institute of Health Services and Policy Research (CIHR-IHSPR). In this capacity, he was involved in several health law related projects.
Professor Cabrera has worked on projects with the World Health Organization, the Centers for Disease Control and Prevention, and the Campaign for Tobacco Free Kids, among other organizations. He has studied and is interested in various health law related fields, such as public health law, sexual and reproductive rights, health and human rights, global tobacco litigation and health systems law and policy.
May 20, 2019
April 10, 2016
January 28, 2016