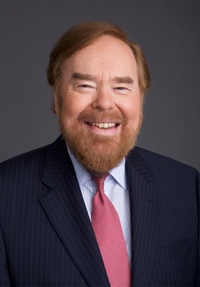 Professor of Law
Paul F. Rothstein
B.S., Northwestern; J.D., Northwestern
Professor Rothstein is well known for his work in evidence, civil and criminal lawsuits, and the judicial process from the Supreme Court on down. He is the author of Evidence: Cases, Materials and Problems; Evidence in a Nutshell; Federal Rules of Evidence; Federal Testimonial Privileges and several other books and approximately 100 articles. His background is that of a practicing litigation attorney. His numerous professional activities include positions as chair of the American Bar Association Rules of Evidence and Criminal Procedure Committee, Board member and Education Chairman of the Federal Bar Association, chair of the Association of American Law Schools Evidence Section, and consultant to the National Conference of Commissioners on Uniform State Laws, the U.S. Congress, and the National Academy of Sciences. In addition, he has been a regular contributing editor to the Legal Times, the New York Law Journal, and the Criminal Law Bulletin and on the Publication Advisory Boards of Matthew Bender Co, Lexis-Nexis, and several other publishers. Professor Rothstein was a Fulbright Scholar at Oxford University in England prior to entering the profession.
Professor Rothstein was on the American team helping draft the constitutions of approximately a dozen countries emerging from the former Soviet Union, including Russia. He has also been a pioneer in government compensation for victims of crime, helping draft some of the earliest American legislation and playing an instrumental role in the formation of the American and International Crime Victims Compensation Associations. He has been a principal consultant to both houses of Congress on revision of the massive U.S. Criminal Code and on the Federal Rules of Evidence; and has advised states and countries considering or adopting similar codes and/or rules, such as Canada, D.C., New York, Florida, and Texas, among others. His books and long-running series of articles and conference programs for judges and attorneys on the Rules, together with his chairmanship of the Association of American Law Schools Evidence Section and of an American Bar Association Committee studying the Rules, are credited with advancing in a major way professionalism and competence in the use and teaching of the Rules. He has designed and run trial-lawyer training programs for the Justice Department and other government agencies and leading Washington law firms; and has run a federal public defender service. He has represented prominent public figures, and has been invited to write Friend of the Court briefs in several important Supreme Court cases, including two of the leading evidence cases and a petition for certiorari in a case involving President Bill and Hillary Clinton and Independent Counsel Kenneth Starr. He is frequently sought out as a public commentator on many of the important legal developments of our times.
Forthcoming Works - Journal Articles & Working Papers
Books
Paul F. Rothstein,
Federal Rules of Evidence
(St. Paul, Minn.: Thomson/West 3d ed. 2000-2018) (publishing annual editions). [
BOOK
]
Paul F. Rothstein & Susan W. Crump,
Federal Testimonial Privileges: Evidentiary Privileges Relating to Witnesses and Documents in Federal Law Cases
(St. Paul, Minn.: Thomson/West 2d ed. 2003-2018) (publishing annual editions). [
BOOK
]
U.S. Supreme Court Briefs
Brief of Amici Curiae National Association of Criminal Defense Lawyers and Seventeen Law Professors in Support of Petition for a Writ of Certiorari, Farha v. United States, No. 16-888 (U.S. Feb. 13, 2017).