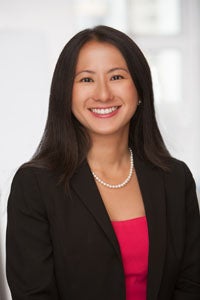 Professor of Law; Faculty Director, Center for Transnational Legal Studies, London
Yvonne Tew
B.A., University of Cambridge; Ph.D., University of Cambridge; LL.M., Harvard
Areas of Expertise:
Phone
Office
McDonough Hall 462
Office Hours
Mondays, 3:30-5:00 P.M.
Professor Yvonne Tew writes and teaches constitutional law, comparative and U.S., and law and religion in global perspective. She is the author of Constitutional Statecraft in Asian Courts (Oxford University Press, 2020). Her scholarship has been published in the American Journal of Comparative Law, Virginia Journal of International Law, Columbia Journal of Transnational Law, Cambridge Law Journal, and Washington International Law Journal as well as in book collections from Oxford University Press, Cambridge University Press, Edward Elgar Publishing, and Routledge. She was a guest columnist in 2020 for the I-CONnect Blog of the International Journal of Constitutional Law. She currently serves on the Executive Board of the American Society of Comparative Law and on the Executive Editorial Board of the American Journal of Comparative Law.
Professor Tew holds a Ph.D. from the University of Cambridge, where she was a Gates Cambridge Scholar. Her doctoral dissertation was awarded the Distinction in Research Prize in the Arts and Humanities in 2012 by St. Catharine's College, University of Cambridge. While at the University of Cambridge, she served as the Editor-in-Chief of the Cambridge Student Law Review. She received her first law degree from the University of Cambridge graduating with Double First Class Honors. She graduated with a Master of Laws (LL.M.) from Harvard Law School after winning the Cambridge-Harvard Law Link scholarship awarded to the top two final-year law graduates from the University of Cambridge entering Harvard Law School. She is a member of the New York state bar. Before joining the faculty at Georgetown Law, she held research fellowships at Columbia Law School and the New York University School of Law.
Featured Scholarship
Yvonne Tew, Constitutional Statecraft in Asian Courts
(New York: Oxford University Press 2020).
[
BOOK
]
Yvonne Tew,
Strategic Judicial Empowerment
,
Am. J. Comp. L.
(forthcoming).
[
SSRN
]
Yvonne Tew & Jamal Greene,
Text, History, and Precedent
,
in
Research Handbook on Constitutional Interpretation
(Carlos Bernal, Sujit Choudhry & Kate O'Regan eds., Edward Elgar forthcoming).