2018 Women's Forum Moves to Georgetown University — with Law Center Alumnae at Center Stage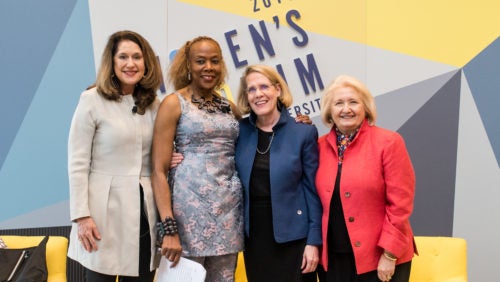 Nearly five hundred attendees showed up at Washington D.C.'s InterContinental Hotel on May 2 and 3 for the Women's Forum, an event that began at Georgetown Law in the 1990s and now includes alumnae and panelists from across Georgetown University.
The hotel buzzed with students and recent graduates networking and seeking career advice from illustrious alumnae.
Sally Yates, former Acting Attorney general and a Distinguished Lecturer from Government at the Law Center, captured the atmosphere well: looking out at the accomplished women at the opening keynote — a discussion with her former Associate Deputy Attorney General Miriam Vogel (L'01) — she told attendees, "Feel the girl power in the room right now!"
Rosemary Kilkenny (L'87), vice president for Institutional Diversity and Equity at Georgetown, reminded the audience that it was only in 1880 that the University, nearly a century old by then, first admitted women. Today, if academic excellence was the only criteria for admission, "Georgetown would be predominantly a women's college," she said — prompting much applause.
Her reflections, during a panel on the past, present and future of gender equity at Georgetown, encapsulated the larger mood throughout the two-day forum and in the country as a whole: women have come so far, and are striving harder than ever — outperforming their male peers academically, speaking up about past discrimination and harassment — yet so much more needs to be done.
Simple steps
More than two dozen panels, workshops and receptions touched on topics ranging from running for office to how #MeToo is impacting the sports world.
Speaking at a panel on "The Future is Female: Empowering Women and Girls as Change Agents and Influencers," Terri Carmichael Jackson (C'89, L'92), director of operations at the Women's National Basketball Player Association, said empowering her staff and players can start with something as basic as making it clear that your door is open if you need to talk.
"You can be that safe place for somebody to come into your office, or to just say, 'Hey, can we go grab a coffee?'" she said. "Because they may need to tell you something. They may need to share with you something that happened that was bad, that was negative."
Jackson echoed a suggestion by co-panelist Rachel Schall Thomas (C'93), president and co-founder of the Sheryl Sandberg & Dave Goldberg Family Foundation, to use introductions as a way to raise other women's profiles, since women are often reluctant to tout their own accomplishments.
Maheen Kaleem (F'07, L'13), a program officer at the Initiative to End Violence Against Girls and Women at the NoVo Foundation — a major funder of women's human rights work — noted that working towards a world where the future is female starts with ensuring your organization is a place where women can thrive.
"It's looking inside your house," she said, suggesting steps such as examining grievance policies, what kinds of trainings are offered and what sorts of conversations take place around sexual- and gender-based harassment. "It's about looking at internal culture, your internal practices, and your home."
Helping others
For Kaleem, helping others starts with believing women and other survivors of sexual and gender-based violence. That may seem obvious now in the #MeToo era, but as Kaleem noted, the #MeToo movement began more than a decade ago with New York City-based activist Tarana Burke, who has worked with survivors — women and girls of color, gender-nonconforming people — whose voices were not heard.
"We have to tell little girls that we believe them," she said. "I cannot tell you how many times someone comes up to me and says, 'I was not believed.' If we don't do that, all of that shame piles up."
Nancy Hogshead-Makar (L'97), former Olympian and CEO of Champion Women, an advocacy organization for women and girls in sports, shared a frank, moving account of her own sexual assault, as a 19-year-old student at Duke University, at a panel on women in sports and #MeToo. Pulled into the woods by an assailant during an evening jog, she said, "I didn't get out for two-and-a-half hours. I was very lucky to be alive." She would later go on to win three gold medals representing the United States at the Olympics, but that process, she said, started because people believed her.
"Everybody believed that it happened — nobody said, well how much did you drink?" she said. "And I owe that to a generation of feminists that came before me, because if I was in India, if I was in lots of other countries, I would have had to marry that guy."
"People tend to look at me and say, 'You won three gold medals two-and-a-half years after you were sexually assaulted…,'" Hogshead-Makar (L'97) continued. "No, I'm telling you, I did that because people were profoundly kind to me. And because they not only believed that it happened, but they also believed in the depth of my emotional harm and made sure I got the right help…That's why I won three gold medals."
Men as allies and partners
Male allies were both a theme and a conspicuous absence at the conference. Panelists and audience members noted how frequently conversations around women's empowerment take place solely amongst women, even as men still hold the vast majority of power and leadership positions.
Georgetown Law Professor Naomi Mezey, on a panel on feminism as a personal and professional identity, described how becoming a parent deepened her understanding of gender inequality when she saw how fathers get crowned with laurels for doing work (changing diapers, waking up in the middle of the night) that is simply expected of women.
"When it comes to parenting, men shouldn't just be allies to women," Mezey said. "Men need to be feminist in the sense that they need to own the domestic laborhood of parenthood."
Of course, not all men are allies, as Yates and other panelists noted. Yates recalled one supervisor, early in her days at the U.S. Attorney's Office in 1989, who didn't want to assign her to the criminal division because "he thought it would be too rough and tumble for me there." Yates was put in the white-collar division instead. Although she didn't like his rationale, she fell in love with the work.
Hogshead-Makar described how a former U.S. Olympic Committee (USOC) CEO "systematically took power away" from other areas of the organization, something she had documented as the leader of the Committee to Restore Integrity to the USOC.
Under that kind of leadership, Hogshead-Makar (L'97) said, "A Larry Nassar [the Michigan State University doctor who sexually abused hundreds of gymnasts] was virtually inevitable. There were awful, awful stories that had been happening for a long time, and nobody was doing anything about it."
At media organizations, that kind of failed leadership can lead to mind-bending hypocrisy, noted political commentator and former prosecutor Greta Van Susteren (L'79, LL.M.'83, H'13). At a Women in Media panel, Van Susteren pointed to non-disclosure agreements used by media organizations where male personalities and executives have been accused of harassment, assault, and other misdeeds.
"They're coming from media organizations who live and breathe on the whole idea of [transparency]," she said.
Gender Equity Task Force
Georgetown Law Vice Dean Jane Aiken gave the audience some welcome news: In the last seven years, new hires on the Georgetown Law faculty have been 59 percent women and 40 percent people of color. Four out of the last five editors of the Georgetown Law Journal were women, as is next year's.
However, "[in] 2018, and the challenges that we have looking at gender equity are far more complicated," Aiken said. Intersectionality, a term originally coined by legal scholar Kimberlé Crenshaw to describe how the law can erase experiences of people subject to multiple forms of discrimination, is chief among the challenges.
Georgetown's new Gender Equity Task Force is looking at ways to counter implicit bias in the hiring and promotion process to ensure women can advance into leadership roles. That means paying special attention to how childbearing and childrearing impact women's career paths and accounting for other behaviors that track with gender, such as how women and men approach citations in academic writing.
"Women tend not to cite themselves. Not so much for men. So if you're counting citations," Aiken said, "[women will lose out]."
Former Georgetown Law Dean Judy Areen, now the executive director of the Association of American Law Schools (AALS), added that women diverge from men with respect to careers in the law. Citing a survey of 22,000 undergraduates AALS conducted with Gallup, Areen said women chose to pursue careers in law "to give back, to help others" and "to advocate for social change." Male students said they saw law as a "pathway to a career in politics, government, or public service," and considered that "there are high-paying jobs in the field." Both genders cited a "passion for and interest in the work."
Law as a tool for social change — and more
Denise Gitsham (L'07), who ran for Congress in 2016 to represent California's 52nd district, said law school "was my way of becoming a better communicator," a skill she took on the campaign trail and one that she uses in her current role as the co-founder of a strategic communications firm.
Hogshead-Makar said her wide-ranging course load, which included anti-trust law, gave her the tools to advocate for college athletes as well as a deep understanding of how the National Collegiate Athletic Association works.
Ebony Howard (L'07) was a social-justice-minded young woman when she came to Georgetown Law. Now an assistant federal public defender in Alabama, Howard spent eight years at the Southern Poverty Law Center, trying to stop the "school-to-prison-pipeline" that funnels students of color into the criminal justice system, beginning with disproportionate disciplinary sentences for minor infractions, she said at the "Hoyas Working for Racial Justice" panel.
She praised Georgetown Law's public-spirited mission — and Curriculum B (also known as "Section 3"), for providing multiple lenses through which to think and speak about the law.
Howard credited her experience in the Juvenile Justice Clinic as the single most important preparation she could have for her current career.
"It was like a boot camp of sorts — it was hell, it was absolute hell, but it was amazing," Howard said, recalling how the experience and responsibility of having a caseload of kids taught her what she was capable of. "I learned there that I have within me the ability and power to stand up and advocate on behalf of people. That clinic brought it out of me."