ACLU National Legal Director, Professor David Cole, Speaks to Georgetown Law Chapter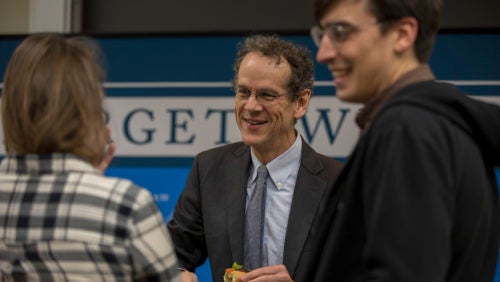 Perhaps no guest of a Georgetown Law student organization was ever quite so at ease speaking to Georgetown Law students as David Cole, the American Civil Liberties Union's National Legal Director.
That's because Cole has already held many thoughtful discussions in McDonough Hall about constitutional law and civil liberties. Cole, who is the George J. Mitchell Professor in Law and Public Policy at Georgetown Law, took leave in January 2017 to work for the ACLU.
"I could not be more excited to introduce David Cole…," Rachel Farkas (L'20), president of Georgetown Law ACLU, said on February 7. "Professor Cole is a force both in academia and in legal practice."
In a talk entitled, "Lessons from the Front: Defending Liberty in the Trump Era," Cole admitted that he was expecting a different future, and a different Supreme Court, when he agreed to work at the country's largest and oldest civil liberties organization in Fall 2016. An expert in constitutional law, national security and criminal justice, Cole has authored seven books including Engines of Liberty: The Power of Citizen Activists to Make Constitutional Law, exploring activism on issues from same-sex marriage to the right to bear arms.
While his plans required some revisions after the 2016 presidential election, it didn't take long for Cole to realize that the ACLU was exactly where he needed to be.
When one party is in power, organizations like the ACLU, the press — and movements like #MeToo and March For Our Lives — become essential to provide checks on that power, Cole said. "When one party is in power, separation of powers doesn't work so well."
We'll See You in Court
Cole joked that he knew "we had arrived" when Nina Pillard — a judge on the U.S. Court of Appeals for the D.C. Circuit and a former Georgetown Law professor who is also Cole's wife — spotted a clue in a New York Times crossword: What group told President Trump, "We'll see you in court"?
Though the ACLU is nonpartisan, it has filed 200 suits "and counting" against the Trump Administration — on issues from the transgender military ban, sanctuary cities, dividing families at the border, the revocation of Deferred Action for Childhood Arrivals (DACA) and more.
When President Trump signed an Executive Order on January 27, 2017, banning entry into the United States for 90 days by citizens from seven Muslim-majority countries, "that night, we were in court, filing the first [challenge]…" Cole said.
In the wake of the presidential election, the organization's membership has quadrupled. And with a farther reach than some national news outlets, the ACLU is striving to educate voters.
"Ten years from now, we could look back on this time, and there's two possible narratives about what we might say," Cole told the students. "One is, oh my God, that was the beginning of an incredible decline…against democracy. The other narrative is, wow. We saw a profound threat to the values of this country, but Americans stood up and engaged in defense of the values that we hold most dear, and as a result of that, these values are stronger, not weaker.
"I can't predict which will be the story in 2028," Cole concluded. "But I do know this: what story is told will depend on us."