Bridging the Gap Between Law and Technology: Associate Dean Paul Ohm, Alexandra Givens of Tech Institute Win Grant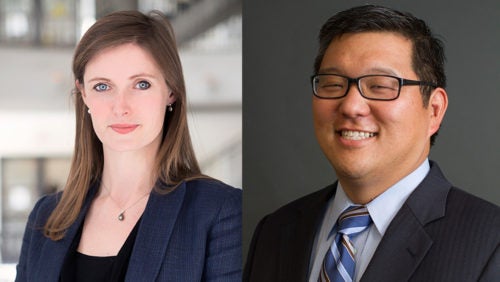 Georgetown Law Associate Dean and Professor Paul Ohm and Alexandra Givens, founding executive director of the Institute for Technology Law & Policy, have won a $36,000 grant from the Public Interest Technology University Network (PIT-UN) for their initiative "Building Bridges: Strengthening Cross-Disciplinary Connections in Computer Science and Law."
The award — part of the PIT-UN's $3 million inaugural Network Challenge — highlights Georgetown Law's national leadership in tech law. Georgetown's main campus is also leading the way: Philosophy Professor Maggie Little of the Kennedy Institute of Ethics and Jason Matheny, founding executive director of the Center for Security and Emerging Technology at Georgetown, won nearly $86,000 for "Embedding Ethics for Career Training in the Governance of Artificial Intelligence."
"We're thrilled to get the grant. It's wonderful validation for the work that we're doing at Georgetown to drive cross-disciplinary learning," Givens says.
Building Bridges
The Building Bridges project will bring together representatives from the 21-member PIT-UN network, as well as other colleges and universities across the country, for two working sessions — the first at Georgetown University and the second at partnering institution Boston University. Participants will brainstorm ideas for courses, degree programs, research and other initiatives that bridge computer science and law. The aim is to produce a white paper for wide distribution.
"Pick your metaphor — it's oil and water, it's Mars and Venus — these are different worlds that we're bridging, that until a few years ago no one had really started to put together," says Ohm, when speaking of law and technology.
"I think people really, really want best practices," Ohm continues. Ohm introduced the wildly popular "Coding for Lawyers" course at Georgetown Law four years ago, and is currently writing a textbook on the subject with Jonathan Frankle. Ohm also serves as Georgetown Law's associate dean for academic affairs.
"About every two weeks I get an email from a professor somewhere in the world asking me to share materials, share a draft of the book. So to me there's such a hunger and demand across the academy. We're going to bring the smartest, best people we can and hope to share this knowledge broadly."
The grant winners were announced October 7 at Georgetown University's first Public Interest Technology University Network Conference, which Givens and Ohm attended.
Ohm and Givens will convene a "Teach the Teachers" public event during the first working session at Georgetown for faculty interested in combining computer science, law and policy in the classroom. The event will be live-streamed and recorded to reach a national audience.
Hitting the Ground Running
With 19 full-time faculty members engaged in tech law issues, Georgetown Law's tech curriculum currently includes more than 70 courses. Innovative programs such as the privacy legislation practicum — a collaboration between the Law Center and MIT — and the Iron Tech competition — in which students build apps to help increase access to justice — have become national models.
"The most important insight driving our growth in this area is that technology is affecting all aspects of society," Givens says. "If you care about voting rights today, you need to know about technology. If you care about civil rights in any capacity, you need to understand how technology is perpetuating existing gaps in our society."
"One of our key priorities is making sure that students don't take themselves out of the conversation because they feel like they're not 'techy' enough," she continues. "To me, that is a critical issue affecting all of our society — that people are scared to interrogate systems that they don't understand — and it's preventing a true, informed, democratic conversation about these major systems."
As Givens explains, the PIT-UN was established to address these issues and promote civil engagement on questions of technology, as well as to train a new generation of technology and policy leaders. The Ford Foundation, New America and the Hewlett Foundation convened the network earlier this year. Georgetown is a founding member.
"It's amazing how quickly the PIT-UN network has come together," Ohm says. "What seems like an abstraction a year ago really feels like it's hit the ground running right now. This is such a concrete way to kick start so many different projects."