"Can I Live?" Examines Black Women's Lives in America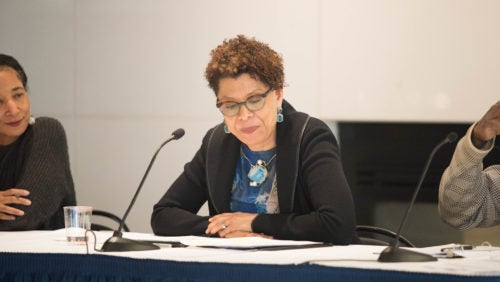 Sandra Bland, who died in prison after being arrested for a traffic violation. Aiyana Stanley-Jones, a seven-year-old shot and killed by police during a raid. Renisha McBride, shot and killed by a homeowner when she knocked on the door of a house. Black women in America have lost their lives, and have been subjected to other horrific injustices, just as men have been. Yet America does not often remember their names.

"Police brutality is [about] more than people dying during their interactions with police," said Associate Dean Kristin Henning, the Agnes N. Williams Professor who directs the Juvenile Justice Clinic. Black women and girls in America have been held at gunpoint by police for being noisy at a pool party, dragged in a classroom because of a cell phone, strip-searched in middle school, regarded with suspicion when eating lunch in their college dorm.
"It goes so much further, into the broader institutionalized systemic problem that includes emotional and verbal assault and intimidation that ultimately dehumanizes women of color, people of color," Henning said.
Henning moderated "Can I Live? Black Women's Lives in America," held at Georgetown Law on February 11. Tristin Brown (L'19), president of Georgetown Law's Black Law Students Association (BLSA), introduced the panel of Georgetown Law experts. The event was the first in a series of BLSA events celebrating Black History Month, ranging from community service at D.C. Central Kitchen to a book drive to benefit Sousa Middle School.
Professors explored how the intersection of gender and race compounds bias, leading to discrimination with more devastating effects than racial discrimination alone or gender discrimination alone.
"Intersectionality is an idea that was first articulated by Kimberle Crenshaw — the idea is that we are all a bunch of different identities," said Professor Paul Butler. Butler, the Albert Brick Professor of Law is an expert in civil rights, discrimination and race relations. "Nobody is 'just' lesbian or 'just' disabled or 'just' 55 [years old]. The ways that different identities intersect matters."
Distrust of the System
Professor Sheryll Cashin, the Carmack Waterhouse Professor of Law, Civil Rights and Social Justice, examines stereotypes surrounding poor people of color and how those stereotypes affect women.
"A lot of these terrible stories…driving while black, walking while black, breathing while black, eating lunch on Smith's campus while black — [involving] people who have no intimate understanding of what black people are like, in our beauty and genius and greatness — where do they get these stereotypes from?" she asked, noting that lot of the stereotypes come from high poverty black neighborhoods. "These stories mask practices of predation, aggressive policing and disinvestment, and it affects men and women differently."
Visiting Professor Jill Morrison, director of the Women's Law and Public Policy Fellowship Program (WLPPFP), and Leadership and Advocacy for Women in Africa (LAWA) Program, spoke of the risk of violence against black women, at the hands of police and intimate partners.
"It's known that when you call the police into your community, bad things typically happen…" Morrison said, noting that women have been evicted from their homes for calling 911 too much. "This justified distrust of the system actually keeps women from getting the help that they need."
Hope
While the problems are "overwhelming, debilitating, intractable," Henning said, "you are here at law school with hope."
"We should think about what we as a community can be doing, how we can be allies for black girls and black women…" she said. "I want to join the fight to remove [school resource officers] from schools…normal adolescent teenage girlhood is criminalized."
If you want to know what you would have done "back in the day," about discrimination and injustice, Butler said, "ask yourselves what you are doing now."
Sabrina Bernadel (L'20), vice president of the Women of Color Collective, thanked the panelists for leading the discussion.
"[Kimberle Crenshaw has written,] when you ask people to name victims of police brutality, for the most part, nobody will give you a woman's name," she said. "That's not just a commentary on police violence statistics in America. That is an accusation against us all, that we don't often think of the black women's story… This only serves to shift power dynamics away from black women in America. But that does not mean she is powerless. Part of how we will shift the power dynamics to include black women in the conversation comes together in what we did today."
The event was co-sponsored by the Let Freedom Ring Initiative, the Women of Color Collective, Georgetown Law's Office of Equity and Inclusion, the Black Law Students Association and Law Students for Democratic Reform.