Congresswoman Eleanor Holmes Norton Returns to Georgetown Law Amid D.C. Statehood Push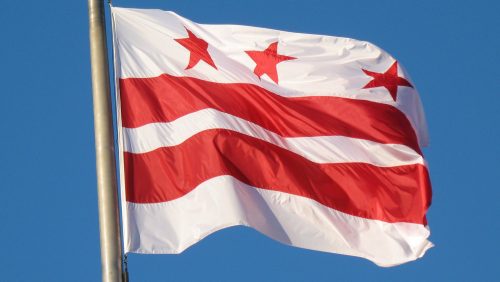 Congresswoman and Professor Emerita Eleanor Holmes Norton is the sole member of Congress for Washington D.C.'s nearly 700,000 residents — including most of the Georgetown Law Community — but as a non-voting delegate, her power is limited.
She has rallied against D.C.'s taxation without representation for over 30 years and a bill she introduced to make the District a state recently passed the House of Representatives for the second time ever.
"The District pays the highest federal taxes per capita in the United States and that is that case which I think has brought more people to D.C. statehood than anything else," she said at a recent event hosted by Georgetown Law Students for Democratic Reform and cosponsored by the Georgetown Law ACLU.
"We've tried many iterations to try to get the District at least some of the rights that other Americans have," she told students and others attending the April 27 virtual event. "Now with Democrats in control of the House, Senate, and presidency, it makes no sense to do anything except go for the full enchilada, statehood for the residents of the District of Columbia."
Congresswoman Norton (D-DC) — who was a full-time Georgetown Law professor between 1982 and being elected to Congress in 1990, and continued teaching at the school for nearly three decades afterward — was interviewed by Professor Aderson Francois, the director of the Civil Rights Clinic. They discussed D.C. statehood and voting rights now that two related bills have passed the House of Representatives and moved to the Senate: HR 51, which would make Washington, D.C., the 51st state; and HR 1, a wide ranging voting rights and democracy reform bill.
Among the audience were a number of students who have been actively advocating for D.C. statehood during their time at Georgetown Law.
"Rep. Norton literally has worked for her entire career at the margins of how much power DC residents get to exert in our democracy," said Orlando Economos (L'22), the policy and lobbying chair for Georgetown Law Students for Democratic Reform (GLSDR). "She has been in that position for at least three decades and has been doing this work in a sustained way longer than pretty much anybody else."
"GLSDR is very active on this issue," added Alex Goldstein (L'22), the group's activism chair. "We've planned a number of lobby days on D.C. statehood where we've met with Democratic senators and some Republican senators trying to push them to support D.C. statehood."
"The count is 44 Democratic co-sponsors in the Senate, so we're almost there," he said.
Likely the most important vote in the Senate is Senator Joe Manchin (D-WV) who recently said he believes a constitutional amendment is required to make D.C. a state, a common argument among opponents of the most recent bill. Professor Francois said this view is a misreading of history and the Constitution.
"When the so-called Seat of Government Clause was drafted there was virtually no discussion at all anywhere in the debates that showed that folks intended for the residents in D.C. not to be able to vote," he said. "So it's always interesting when folks talk about what the — quote, unquote — 'founders intended.'"
No Republican Senators currently support the bill so Manchin's support is needed to pass the law. It would also require reforming or eliminating the Senate filibuster which requires 60 votes to pass legislation like D.C. statehood, which Manchin has also been vocal about opposing. Rep. Norton remains hopeful that opinions can be changed.
"We've gotten rid of the filibuster for everything except legislation. We got rid of it for nominations. And I think D.C. stands a very good chance if we get rid of the filibuster," she said.
If D.C. became a state it would be the only plurality Black state in the country and many have argued for D.C. Statehood as a racial justice issue.
"D.C. is one of the most important civil rights issues facing our nation today," said Goldstein. "The disenfranchisement of D.C. residents cannot be separated from the national efforts to deny representation to people of color."
In a recent piece in The Hill, the faculty director and executive director of Georgetown Law's Project on State and Local Government Policy and Law (SALPAL) aimed to tackle several "myths" they say have wrongly undercut support for D.C. statehood.
For her part, Congresswoman Norton said she thinks the most convincing arguments of why D.C. should gain statehood are taxation without representation and the fact that D.C. has a larger population than Vermont and Wyoming. And, she shared her hopes that more Georgetown Law students will join the fight.
"Georgetown students who come from all over the country and have had the benefit of living in states which have the same rights as others," she said. "Now they come to law school –one of the great law schools — and they find that they better watch out because they are in a place that doesn't have the same rights. I hope that will lead Georgetown Law students to proselytize for D.C. statehood."
Watch the full event below: