"Federal Money" Class Has Government Shutdown on the Syllabus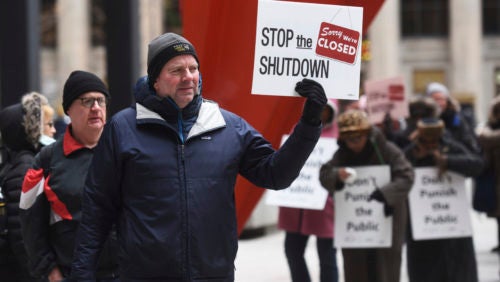 Nathan Williams (L'20) was planning to do an externship for course credit at the Department of Justice's Commercial Litigation Division during the Spring 2019 semester.

Government externships have worked out well for Williams in the past. As a business major at the University of Georgia in 2013, he worked on the Hill and lived on Massachusetts Avenue, walking by Georgetown Law every day. That inspired him to add political science to his coursework and to apply to Georgetown Law after getting a master's from the London School of Economics.

But this time, the recent partial government shutdown means that the background clearance for his externship has stalled — prompting Williams to look for a Plan B.
He's always been interested in the intersection of economics, law and politics, so fortunately, he found Professor from Practice Timothy Westmoreland's class on "Federal Money: Policymaking and Budget Rules" to make up the credits. After a snow delay, the class started on January 16 with a crash course on the government shutdown.
In a typical spring semester, Westmoreland doesn't cover the federal Antideficiency Act, a post-Civil War statute preventing the incurring of obligations or expenditures in excess of appropriations or funds, until a month or so into the semester.
But with hundreds of thousands of federal workers not working — and everyone seeking clarity on what constitutes an exception, involving an imminent threat to life or government property — Westmoreland knew he needed to work the Antideficiency Act into the first class of the semester.
"It's easy to say, air traffic controllers involve a danger to life," he told the students. "But what about requiring IRS employees to process tax refunds? That's happening right now."
Meanwhile, faculty members such as Professor David Super have been addressing questions such as whether the U.S. Department of Agriculture can legally terminate food assistance benefits under the Federal Food and Nutrition Act.
Williams, who would eventually like to work as a litigator as well as a federal prosecutor, left Westmoreland's class informed.
"I was talking with another student, and we agreed that we had never learned so much in such a short amount of time that was so relevant at that time," he said.
Understanding the Federal Budget
Michael Fisher (L'20) enrolled in Westmoreland's class "to understand the federal budget, how it is crafted, and how it may be influenced and interpreted." A direct descendant of the Saginaw Chippewa Indian Tribe of Michigan, Fisher has done externships as a Georgetown Law student for Rep. Dan Kildee (D-Mich.), a strong advocate for tribal issues; the Department of Interior's Division of Indian Affairs, and the DOJ's Environment and Natural Resources Division (all before the shutdown).
As an undergraduate at Ferris State University, he did a different type of externship — with the planning department of the Saginaw Chippewa Indian Tribe in Michigan. That led to a full time job as an environmental scientist with the tribe, thanks to a grant from the Environmental Protection Agency.
But during the 16-day government shutdown in 2013, Fisher and his colleagues had to figure out how to cope with the lapse in Environmental Protection Agency funding. So he's bringing this experience to Westmoreland's class.
As Westmoreland explained, Social Security and Medicare have permanent appropriations; some agencies such as the Department of Defense and the Department of Health and Human Services have their annual appropriations passed and signed for this year. But other agencies do not.
"My tribe is extremely fortunate to have funding to cover salaries in the short term," Fisher says, noting that many tribes do not have that luxury. "Since most tribal environmental programs are largely grant funded, their staff may be furloughed just like federal workers."
Fisher views his time at Georgetown and in Washington, D.C., as an opportunity to gain as much insight and experience as possible, to bring back to Michigan. "This summer I'll be working for a firm in Detroit. Regardless of what I end up practicing, I'll always keep an eye on tribal issues. To me, they're personal, and I have the responsibility to always be an advocate."