During a Pandemic, Health Law Lessons Emerge in Real Time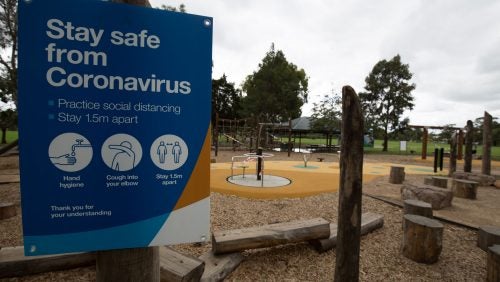 The "central tension" in public health law is "balancing individual freedoms with the collective health and well-being of society."
That's what Adjunct Professor Nicholas Diamond (C'08, LL.M.'16) told his students on the first day of his "Public Health Law and Ethics" course this semester. That was back in January.
In any other semester, he would have referred to previous outbreaks – SARS, H1N1 influenza, or Ebola – as examples throughout the course. But within weeks, a novel coronavirus was spreading alarmingly. Governments around the world were taking drastic action to flatten the curve. In the age of COVID-19, the ethical, moral and legal dilemmas surrounding a health crisis acquired unexpected immediacy.
Whose lives should be saved when hospitals are stretched to the limit? When it comes to curfews, travel bans and lockdowns, how far can governments go to halt a pandemic?
News headlines seemed to converge with Diamond's syllabus, making this a year unlike any other to explore the roles that law, lawyers, and legal institutions play in public health across the globe.
"It's a little surreal," he said. "The sum total of the [course] material stretches across most everything we've seen in the news cycle recently."
"The current moment, just the sheer magnitude and the degree of overlap between all these issues, is just so much more acute than what we've seen before," Diamond added. "It drives home how interdisciplinary these public health law issues really are."
Need for Highly-Trained Lawyers
For Georgetown Law students and faculty focused on global and domestic health law, their field of choice has rarely felt more obviously relevant. Health lawyers are playing crucial roles in developing emergency legislation, advocating for a human rights-based approach to public health measures, and facilitating agreements to fast-track vaccines and expand access to health care.
"The pandemic is highlighting the need for highly trained lawyers who have expertise in areas where health and law intersect," said Sarah Roache, director of Georgetown Law's health law LL.M. program.
For students like Kay Lee (L'20), president of the Health Law Society at Georgetown Law, the pandemic is a call to action.
"This is an opportunity for innovation and more responsible thinking about how we can structure healthcare systems and laws so that when something of this scale comes again, we can deal better," said Lee, who is working part time and finishing the semester from her parents' home in Orange County, Calif.
"For me, it's really brought to light the need for more collaboration and future-looking planning," she added.
Created in 2007 under the umbrella of the Law center's O'Neill Institute for National and Global Health Law, Georgetown's health law LL.M. program is one of the longest running in the world, with more than 200 graduates from 30 countries. Professor Lawrence Gostin, the founding O'Neill Chair in Global Health Law and faculty director of the LL.M. program has mentored and collaborated with many students long after their graduation.
"We are immensely proud of our graduates, who work to promote public health across a wide range of sectors – from hospitals and pharmaceutical companies to international organizations, ministries of health, and not-for-profit advocacy organizations," said Gostin, the nation's most cited health law scholar and a leading expert voice during the current pandemic.
"This is a critical time to harness the power of law and policy to protect the health and wellbeing of the most vulnerable," Gostin said. "Our program has empowered lawyers around the world to help flatten the curve and save countless lives, while ensuring we seek health with justice."
The health law program brings together top experts and practitioners to address issues related to food and drug law, health and human rights, global health governance, and access to health care. Courses include "Epidemiology for Lawyers" taught by Alexandra Phelan, "Biosecurity and the Law" taught by Jared Silberman, and "Global Health Law: An Intensive, Problem-Based Exploration" co-taught by Gostin and Michael Stoto.
Connecting while quarantined
This year, like many universities, Georgetown Law moved all classes online after Spring break. With 22 students from about a dozen countries currently enrolled in the LL.M. program, Roache quickly realized that in addition to academic continuity "students were craving connection with each other."
Roache and O'Neill Institute Executive Director Katie Gottschalk began hosting weekly drop-in sessions on the video conferencing platform Zoom. With students connecting from Argentina, Brazil, Canada, China and more, the drop-in sessions have become an informal networking space that bridges professional and personal interests.
"It's a very far reaching discussion," said Roache. "From substantive conversations about the role of international law in preventing global health emergencies, to sharing recipes and in-home fitness apps."
For Caroline Noyrez, who will graduate from the LL.M. program in May, COVID-19 has brought a shared sense of purpose with her classmates.
"The pandemic has brought us together," she said. "There was a community before. Now it feels like we're involved in a common cause. That brings a little bit of comfort."
Like many students, she traveled back to her parents' home to finish out the semester online. Despite being self-quarantined in a village in the south of France, she feels connected to decision makers around the world.
"At Georgetown, we have professors in the middle of the crisis. Some are working at WHO, others are practitioners at the FDA or CDC," Noyrez said. "It feels like we're at the core."
As she gets ready to enter the workforce, Noyrez has a renewed commitment to health law.
"Before I was very passionate about the scientific side of it – vaccines, medical devices, drugs," Noyrez said. "Now I'm really eager to start applying everything I've learned from a human rights perspective and from a legal and regulatory perspective."
Embarking on a career in health law now, she added, "makes even more sense than it did before."