EU Trade Commissioner Cecelia Malmström Headlines 40th Annual International Trade Update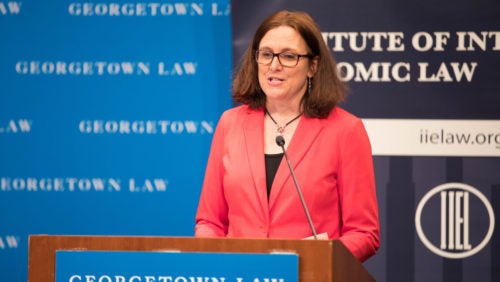 "Despite some heavy rhetoric these days, the U.S. and the E.U. remain firm allies and friends," said European Union Trade Commissioner Cecelia Malmström, speaking at Georgetown Law's 40th Annual International Trade Update on March 7 to 8.
Malmström, Europe's chief trade diplomat, gave a broad view of trade from the European perspective in her remarks, officially known as the 3rd annual John D. Greenwald Memorial Lecture. She spoke in Georgetown Law's Hart Auditorium — one day after meeting with United States Trade Representative (and Georgetown Law alumnus) Robert Lighthizer (C'69, L'73) in Washington, D.C.
"The U.S. and the E.U. often agree on…what the global challenges are, and the threat that they pose, but we do not always agree on a cure," Malmström said. Instead of promoting the common values of free trade, open borders and security following World War II, people are now starting to question the value of the systems that have underpinned growth, in part as a backlash from the pains of globalization, she said.
Shared concerns include China, which is aiming to become the largest world economy. But the effects of undue state influence, stolen intellectual property and unfair trade practices are felt around the world. "I don't have a problem with competition," Malmström contended, adding that competition drives innovation and drives down costs. "It's a good thing, it's good for consumers. But only if it's fair. We play by different rules, and China has been taking advantage of that."
And the E.U. and U.S. agree that the World Trade Organization, launched in 1995, needs updating. "I propose that we renew our global order for the 21st century, with the WTO at the center of the transatlantic partnership in trade," she said. "The fact of the matter is, the U.S. actions are now threatening to break this."
Unique opportunity
As more than one participant noted during the two-day conference, there was no lack of topics to talk about on the subject of international trade: Challenges to the Global Trading System, Trade and Presidential Authority, and the WTO year ahead, and more. The event was hosted by Georgetown Law's Continuing Legal Education and co-sponsored by its Institute of International Economic Law.
"You won't get the opportunity every day to engage people of this stature," Professor Chris Brummer, IIEL's faculty director, said to the students in the audience, as he welcomed Malmström, as well as members of her cabinet and the European Commission to Georgetown Law.
Greenwald, the late Georgetown Law adjunct professor for whom the lecture is named, played a role in drafting every major piece of trade remedy legislation in the 1970s. Malmström, who hails from Sweden, has a similarly distinguished record in public service, Brummer said.
"I'm extremely interested in international trade and the international trade community," said Elaine Chamberlain (L'19). "After hearing about the event through Professor Brummer's International Economic Law and Policy Colloquium, which directly involves international trade, I knew I had to attend to learn more about the international issues at play and how I can potentially break into the field."
In the future, she hopes to attend as many of these types of programs as possible. "This one was one of my favorites," she said. "I hope to go into a career involving international trade or finance."