Justin Brooks (LL.M.'92) Gives the "Brian Banks" Movie its Happy Ending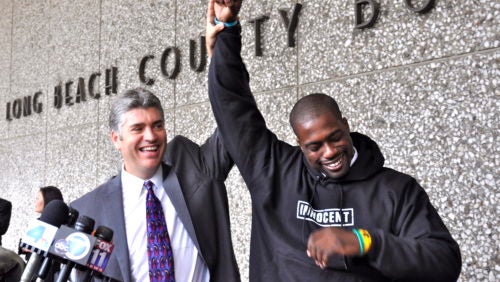 Justin Brooks (LL.M.'92) traces the success in his academic career to Georgetown Law. Now a professor at the California Western School of Law and a co-founder of the California Innocence Project, he once supervised Georgetown Law students teaching classes in Lorton Prison — teaching inmates about their legal rights and helping them with legal issues. After his two-year fellowship with Georgetown Law's Street Law Program led to an LL.M. in 1992, Brooks spent another year at Georgetown as assistant director of a Street Law Corrections Clinic.
"Georgetown absolutely changed my life," says Brooks, whose favorite mentor is former Street Law director and Professor Rick Roe. "Rick Roe completely changed my life, my thinking as a lawyer. It's not about the individual career we make for ourselves, it's how big an impact we can make on the system and on the community."
And Brooks is making an impact. A new movie released August 9 tells the story of former National Football League star Brian Banks, who from 2002 to 2007 served five years in jail for an alleged rape that he did not commit. Banks reached out to Brooks (by then a California Western law professor and a co-founder of the California Innocence Project) from prison, claiming that he had been wrongfully convicted. Banks, a teenager at the time, had opted for a plea deal, because when faced with the choice, he did not want to risk a 40-year-to-life sentence.
"It was this incredibly flimsy case, but he pled guilty," Brooks recalled. "We wrote back and said we couldn't take his case because there wasn't any evidence for habeas. Then he gets out of jail, and his accuser contacts him on Facebook — saying, 'I'm sorry about what happened in high school; I made that stuff up.'"
After being released from prison, Brian Banks met with his accuser, recorded her statements and contacted Justin Brooks again.
"I said, 'I don't actually take [innocence] cases of people out of prison,'" Brooks said. "He said, 'I am never going to be out of prison. I'm going to be a convicted sex offender the rest of my life.' He just convinced me." Brooks, working through the California Innocence Project, was able to get Banks's conviction reversed in 2012.
In the film, Justin Brooks is played by actor Greg Kinnear.
"I've covered a few different angles on law," Kinnear said in 2018, when asked if he's ever played lawyers before. "[But] not a real-life guy like Justin, who in this particular case took such a deep personal interest in Brian's story. It's inspiring…I think all the jokes about lawyers end up going to the wayside when you meet one that is doing good work and is trying to better the world — to better the situation for these people who have been locked away unfairly."
Brooks, whom Kinnear shadowed for the role, has a "certain sort of everyman quality," the actor said. "The human condition, you would suspect, would present you with a more beaten down, slightly cynical guy. But I found a very positive, helpful guy who is realistic about the situation and what he faces with each of these cases. [He] ultimately believes, I think modestly, that someone has to fight the fight."
Brooks, by the way, has a small cameo in the film. "I'm a bartender, serving drinks to 'me' (Kinnear) while 'Brian' (Aldis Hodge) and 'I' are having a conversation that we had eight years ago," the lawyer says. "It's not something you expect to happen in life."
Actual Innocence
Brooks was inspired to start the California Innocence Project after representing a 21-year-old Puerto Rican woman named Marilyn Mulero, who was sentenced to death on a plea bargain. "I didn't understand how anyone could get the death penalty without a trial, so I went to see her," he says. "I took on her case and discovered she was actually innocent."
Brooks was able to get her death sentence reversed, but Mulero still faces life in prison. So now, her attorney — who once walked 712 miles from San Diego to Sacramento to deliver clemency petitions to California's then-Governor Jerry Brown — is doing everything he can to get her out.
"There have been 50 cases reversed that were worked on by the same detective who handled Marilyn's case. He just basically set all of them up," Brooks says. "Her case inspired me to spend the rest of my life doing innocence work. I have walked 27 innocent people out of prison — unfortunately, Marilyn has yet to be one of them."
Brooks has filed clemency petitions with the governor of Illinois and taken Mulero's case to the United Nations. In addition to his work with the California Innocence Project, he spends a significant amount of time in Latin America, training law students and lawyers on how to conduct trials.
He hopes that the film, which mentions Mulero, will bring awareness of the problems of plea bargaining.
"My agenda with the 'Brian Banks' movie is as a platform for law reform," Brooks said. "We shouldn't be allowing juveniles to plea under that kind of pressure. It's going to be a very good movie on the justice system…I think people will walk out and be like, okay, we've got some things to do."