From K-pop to Georgetown Law: Gina Maeng, L'25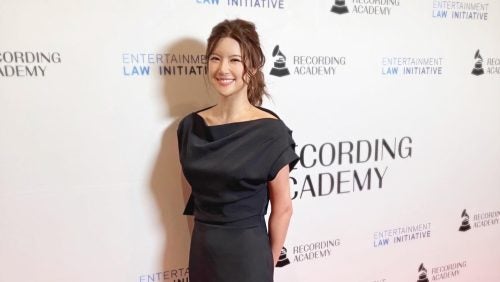 As a teenager, Gina Maeng, L'25, found success in the massive South Korean "K-pop" music industry, but more recently, she's begun making a name for herself in the legal world.
Last January, Maeng, a native of South Korea, was named a runner-up in the Recording Academy's annual Entertainment Law Initiative student writing contest for her paper "Keep Calm and Rock On," in which she outlined policy proposals designed to make live entertainment events safer and prevent incidents like the crowd crush at the 2021 Astroworld Festival that left 10 dead and hundreds more injured. Maeng received a $2,500 scholarship and was matched with a mentor in entertainment law.
Recently, we caught up with her about her journey from performer to law student – and her plans for the future.
Q: What made you decide to pursue a career in entertainment law?
A: I became a K-pop recording artist and songwriter when I was 15 years old. I was discovered through a reality competition show (something like "American Idol"), which led to a training program and a contract with one of the biggest recording companies in Korea. I loved it. But it wasn't all smooth sailing, and one of the many difficulties was a lawsuit over a contract dispute. I couldn't afford a lawyer and represented myself successfully, and that was the sweet taste of justice I needed.
Even while I was part of this K-pop world, I made sure to stay on track to apply to college. The entertainment industry is often illogical and not at all a "you reap what you sow" area. For years, I was an opening act and a dancer and vocalist for other artists, but my own solo debut never came to pass. I loved how at school, all your hard work pays off.
While I was an undergrad at Korea University, a professor who got his J.D. at UCLA recommended I consider going to law school in the U.S. I shelved the idea because at the time my music and travel writing careers were on a roll. But when COVID-19 shut down both the music and travel industries a few years later, I felt it was the opportune time for me to begin my legal education.
Also, Korean culture has been doing amazing around the world in recent years: BTS, Parasite, Squid Game! It just felt right to bring my experience in this area to a new chapter.
Q: What unique perspective might you bring to the field as someone who's been on the "talent" side of the industry?
I have seen so many of my peers go through big and small legal issues. Creative minds struggle with law because it feels so remote – even though it is actually intertwined with many aspects of being an artist, creator and businessperson.
Being a recording artist requires tenacity and perseverance against the illogical and unexplainable nature of the business, as well as 24/7 dedication to the craft. You learn interpersonal skills and how to adapt to changes and odd hours. My other job, travel writing, also has prepared me well for what's to come.
Q: And why did you choose Georgetown Law?
A: Friends who went to Georgetown for undergrad and law degrees told me how great it was to be in D.C., and I wanted to come to a big school where I could make lots of new friends. Georgetown Law has been everything I hoped for and more. I felt so welcomed and have taken part in many activities, including the Barrister's Council (I'm a proud member of the Trial Advocacy Team) and affinity groups like KALSA (Korean American Law Students Association) and FGSU (First Generation Student Union). I also benefited from – and hopefully contributed to – intellectually stimulating discussions inside and outside the classroom.
I'm told I was the first Georgetown Law student to win an award in this Recording Academy competition. I can't wait to encourage other Georgetown Law students to participate. I plan to spread the word through GEMA, the university's entertainment and media alliance, where I am the incoming GEMALaw vice president.
Q: What are you looking forward to doing during the rest of your time at the Law Center?
I was thrilled to have been accepted into the Intellectual Property and Information Policy (iPIP) clinic and am excited to take on actual clients next semester under the direction of Professor Amanda Levendowski. And electives! I think I read the description of every single class in the Curriculum Guide. I have heard it is very competitive to get into, but Professor Douglas Emhoff's Entertainment Dispute class is at the top of my list.
Q: What do you hope to do in the future?
This summer, I'm interning with the National Music Publishers' Association. I am working on music licensing matters, which I am familiar with, and also learning a lot about general copyright and AI issues. After graduating, I hope to start my career at a law firm where I can be exposed to various practices and learn as much as I can. I know what I already like and what I am good at, but at the same time I love intellectual stimulation and being pleasantly surprised by things I never knew I would love learning about.