Georgetown Law '20 and '21 Grads Return to Celebrate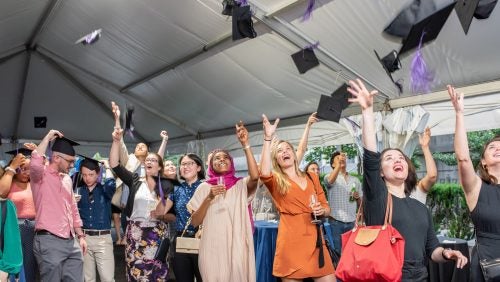 For the two recent Georgetown Law classes whose graduations were disrupted by the COVID-19 pandemic, the "Celebration Weekend" held in early June wasn't a substitute commencement, nor was it an out-of-sync reunion. It was a welcome chance to revisit campus, reminisce about the not-so-old days – and, of course, raise a glass with good friends.

In March 2020, Georgetown Law students learned that the campus wouldn't be reopening after spring break. The last few weeks of classes were held online, and unfortunately the Class of 2020 was unable to have an in-person commencement ceremony. The following spring, after a full year of distance learning, much, but not all, of the class of 2021 made it back to Washington for an unusual graduation held at Nationals Park.
So when the Law Center planned a special event for the '20 and '21 grads, hundreds accepted the invitation. Nearly 500 alumni and guests gathered over the course of the weekend, enjoying a family-friendly picnic, a gala evening at the National Building Museum, a Sunday brunch and more.
Congratulations (again), Classes of 2020 and 2021! We hope to see you back on campus for your first official reunions in 2025 and 2026.